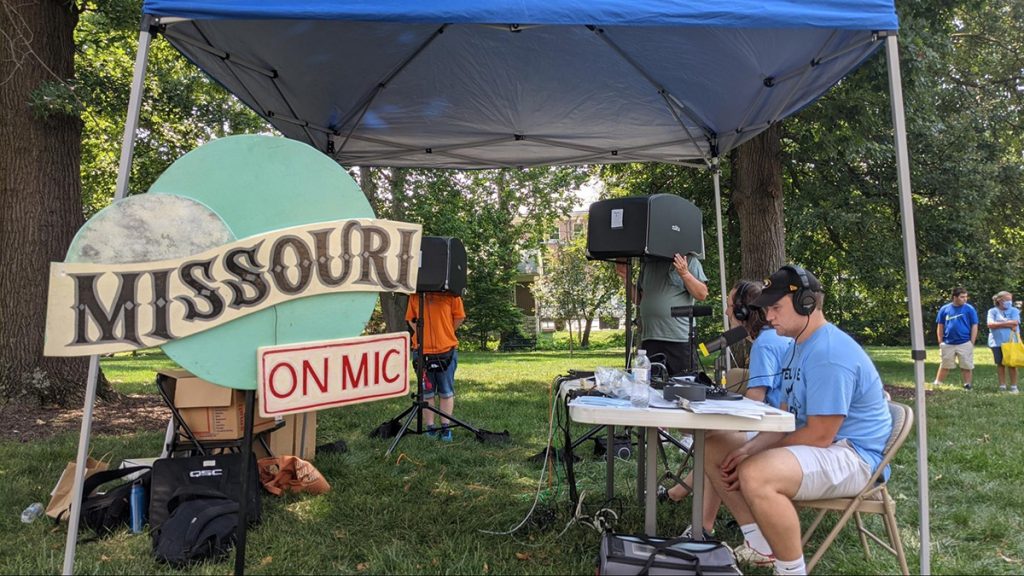 Connecting with community, one conversation at a time
The Missouri On Mic project builds transformation and trust in conversations with community
Our mobile-studio oral-history and listening project Missouri On Mic started with two simple questions from local community groups in Columbia.
The two questions
Kelly Famuliner of True False Film Fest wanted to know whether we'd consider putting an audio booth in the middle of the annual documentary festival. The 2021 fest took place in a city park and was for many a first outing after the first year of pandemic.
When Kelly's request got to KBIA's Janet Saidi, it made Janet reconsider a seemingly simple question that had crossed her desk earlier from another local organization. The State Historical Society of Missouri's communications director Beth Pike liked the idea of gathering audio stories from citizens for the state's 200th bicentennial year. Beth envisioned KBIA audio producers capturing stories of real lives and voices in a sort of audio time capsule.
There was no putting this request off a year — the state of Missouri was turning 200 — and we could either capture this momentous year now or never. But it was a request we were, honestly, reluctant to take on in early 2021.
Making room for new priorities
The KBIA news team, an NPR affiliate at the Missouri School of Journalism, was coming off of months of pandemic coverage that had included a live lockdown-era daily talk program that stretched the infrastructure of our producers, our engineer, our program director. It was co-produced by Janet, producer/professor Alicia Haywood, and a team of journalism students.
These ideas seemed creative, worthwhile, but sort of icing-on-the-cake stuff. Not the sort of meat and potatoes coverage and in-depth reporting that seemed more of a priority amidst crises of public health, disinformation, public distrust of journalism, as well as a collective reckoning of American history and racial disparity in our culture.
But as long-term pandemic coverage and conversations about history, race, and disparity went deeper, we thought again. Maybe collaboration, and engagement, and showing up was just what was needed.
'Show up and shut up'
A series of Zoom meetings began between True False staff and artists, the state historical society and historians, KBIA's engineer, and KBIA producer Janet Saidi, as we envisioned how we might erect a studio in the middle of a festival in the middle of a pandemic.
What our team of producers found from the very first day they showed up in the quirky audio space of our mobile studio at a documentary festival was that the experience was nothing less than transformative. Transformative for the participants sharing their stories — that was expected. But transformative for the producers gathering those stories — that was unexpected.
One young man came to talk with us and pay tribute to his mother who recently had died of Covid. He spoke about the tragedy of finding her, and eventually arranging to bury her himself in order to save money on costs. At the state fair, a young couple told the story of managing through months of long covid right after they started dating. They'd emerged on a first day out to come to the fair and were planning a wedding. At a public library, an unhoused man became emotional at simply being invited to share his story.
All of these conversations and encounters were emotional for our producers. We realized then that self-care and team support should be an important part of this process.
And we realized that showing up, connecting with people, inviting them to talk about their lives, and then listening — or as producer Becky Smith puts it, "show up and shut up" — was exactly what was needed. It wasn't just cool, it was urgent and essential. It was powerful.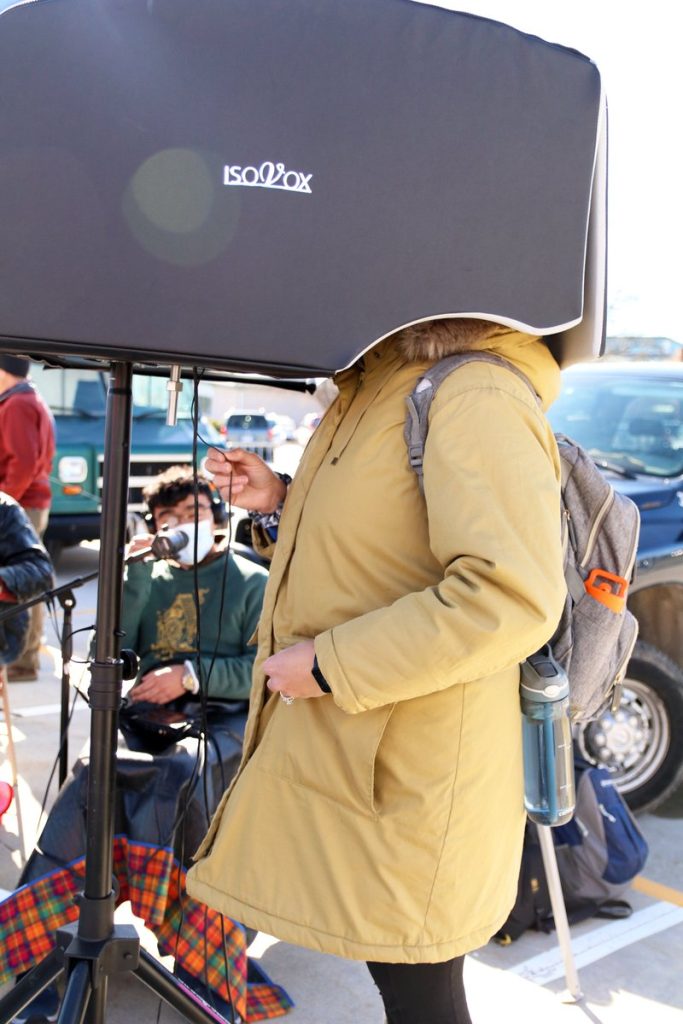 Engineering magic
Mark Johnson, our engineer, got to think about cool ways to recreate a studio at a festival. But he also had to consider some interesting challenges: pandemic-era health codes set by the City of Columbia for the festival; nearby soundstages and live music, not to mention water features (we'd be located on an island in the middle of a lake) that would be surrounding our studio site; and ways to re-create high-quality studio audio that creates the kind of intimacy that you hear through projects like StoryCorps.
The historical society put $5,500 of funding behind the effort to pay for the mobile studio set-up, plus an artist to create engaging signage.
The mobile studio Mark created became what we call "engineering magic." The setup included two sound-proof boxes, the Isovox 2 Midnight Portable Vocal Isolation Booths, with sound-proof foam on all four sides, surrounding a hard platform that holds a good-quality ⅝-inch thread wielding a high-quality microphone.
If you were a participant, you could step up to this box, and a soft velcroed flap would come down behind you, encasing you alone in darkness with only a cozy little LED light stand, a set of headphones, and a microphone. The sound-proof box tends to silence even a noisy festival.
And then you put on the headphones, and like magic it is just you, softness, quiet, and a voice coming through to you. The voice asks you how your year has been, and you begin to talk.
Expanding our presence
We would move on to four additional festivals, including the State Capitol's Bicentennial ceremonies that included a naturalization service where we spoke to the state's newest citizens as well as long-time politicians. We thought if we could get the enthusiasm and the funding, we'd take the studio on the road to the state fair. Our student crews were asked, "Who's in?" and lots of them, with staff producer Kristofor Husted, signed up to interview people amidst the stands of funnel cake and fried cheese curds.
Missouri Humanities gave us the funding for travel, and we went. Set up on the wide front porch of the Womans Building, we collected interviews with a young engaged couple recovering from Covid, a female farmer, politicians, and a performer in a pastel hat and white gloves who introduced herself as Laura Ingalls Wilder.
Eventually, our team talked with 155 people who visited our audio booths at eight festivals by the end of 2021, and the conversations have continued at multiple festivals and pop-up locations into 2022.
Journalism one conversation at a time
The answers and the stories we were told in the Missouri On Mic booths are conversations, connections, and recorded oral histories that will be archived with the State Historical Society of Missouri and within its Missouri Bicentennial Collection. But they are also journalism – which airs on KBIA 91.3 FM each Monday, during Morning Edition and All Things Considered.
These stories come from mothers, from sons, from daughters, sometimes talking with each other as well as us; they come from our new citizens walking out of their official naturalization ceremony; the unhoused seeking shelter at the library; a conservative former U.S. congressman talking with his wife about their farm; a mother talking with her 5-year-old daughter about the daughter's congenital heart disease; and a physician who grew up in Delhi talking about Missouri's fireflies.
"I think when we hear these stories, it tells us that we aren't alone," lead producer Trevor Hook said. "And it tells us that we have some similar shared experiences, and it makes the world feel a little bit less lonely."
Could this be a strategy KBIA and other news organizations deploy to help us rebuild trust in not only journalism, but the humans behind the process, and to ultimately rebuild trust in each other?
How to start your audio conversations journey
Here are three questions to consider before starting this work:
Who are the people in our community who have less access to microphones and whose stories we might seek out?
Where are the places and spaces in our community that will allow our producers to meet people where they are and can provide a meaningful backdrop for sharing glimpses of their lived experiences?
What are the upcoming events and dates that our community will be commemorating that might be amplified by an invitation to share histories, stories, and personal experiences?
Missouri On Mic is a collaborative oral history and audio journalism project of NPR-affiliate KBIA Radio. This is the first in a three-part series for RJIonline.org on how newsrooms can engage in conversational journalism with their communities.
Comments