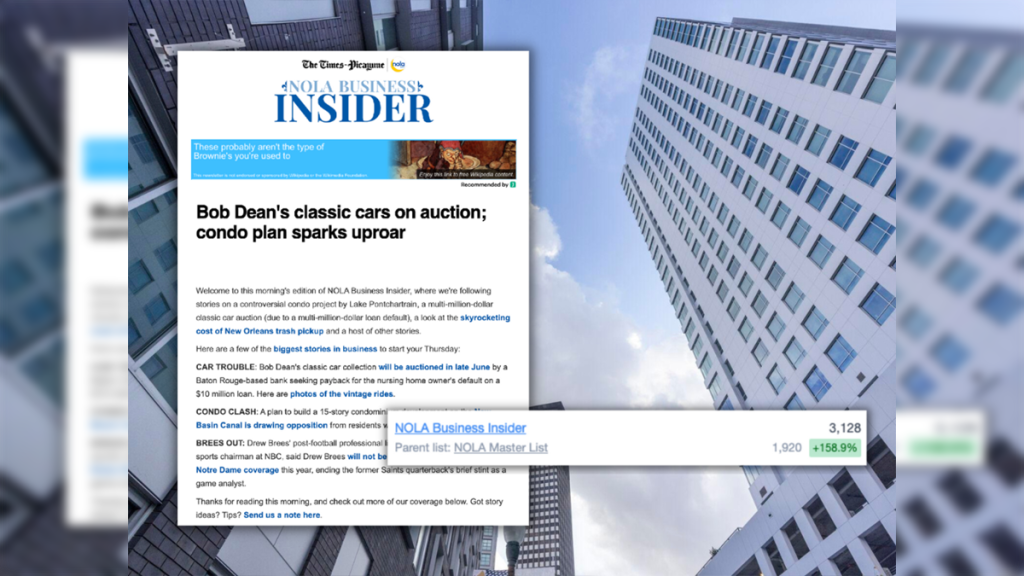 From 0 to 3,000: Six tactics we used to build a newsletter list from scratch
Use these tips to grow your audience
Sydney Lewis is a 2022 RJI Student Innovation Fellow partnered with NOLA.com in New Orleans. The RJI Student Fellows will be sharing their product work this summer through Innovation in Focus.
On June 7, we launched NOLA Business Insider, a daily email newsletter highlighting the opportunities and challenges of the New Orleans business community. Prior to launch, we set three goals:
1,000 sign ups in one week
10,000 sign ups in three months
30% open rate
We reached our 1,000-subscriber goal the day we launched.
Here's how we did it:
1. Audience Research
Analysis of our Parsley data showed that NOLA.com's business stories were averaging about 15,000 page views per post, outpacing the rest of NOLA.com at a ratio of 5-1. The research was clear: we have an audience interested in business news.
2. Platform promotion
For our organic marketing social media pushes, we scheduled Twitter, Facebook, Instagram grid and Instagram story posts. To determine the content, Jerry DiColo, Metro Editor and NOLA Business Insider leader, shared some upcoming business stories that would be featured in the newsletter. By teasing these stories, we got readers to sign up based on the topics they cared about,
For the two weeks leading up to the launch, posts were scheduled once per week, and the three weeks following the launch, we increased the frequency to twice per week.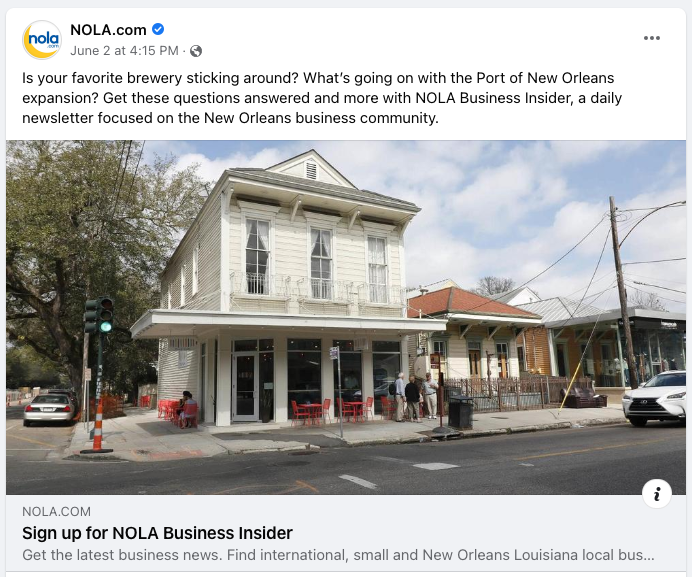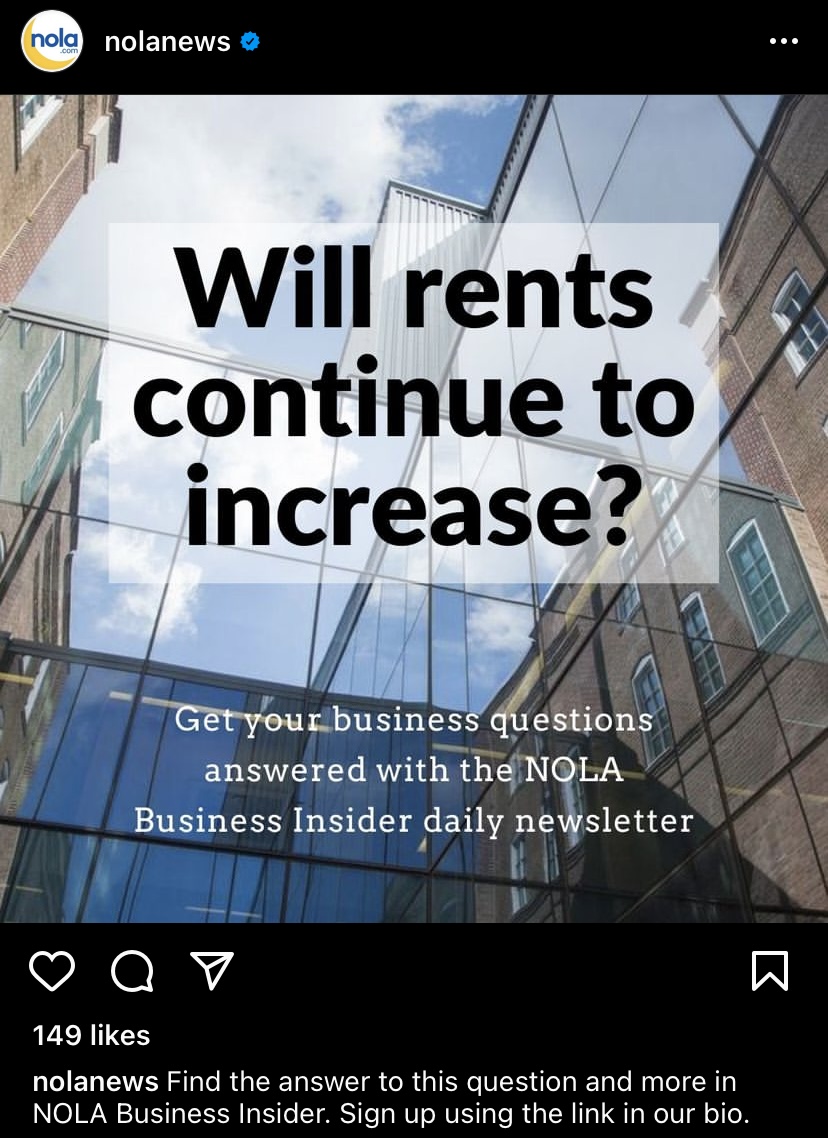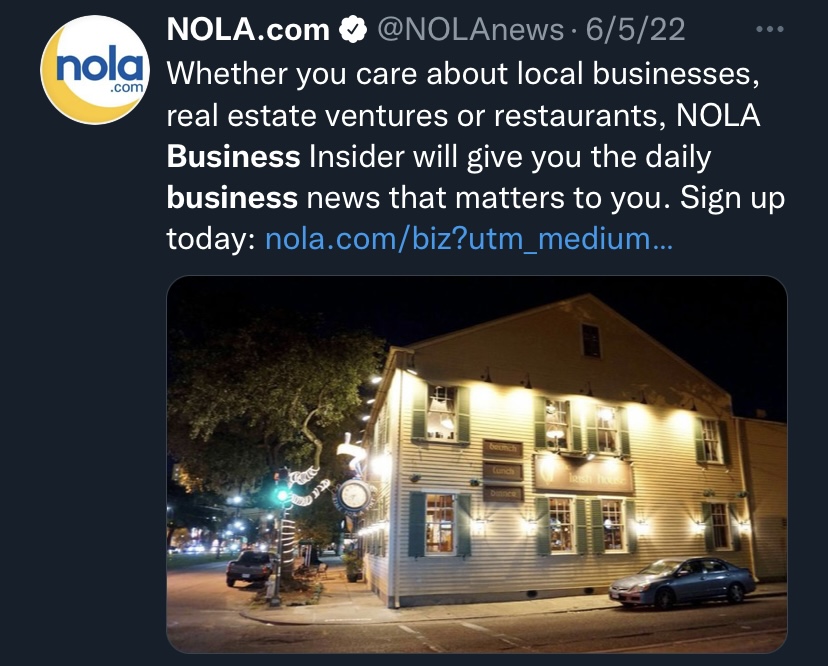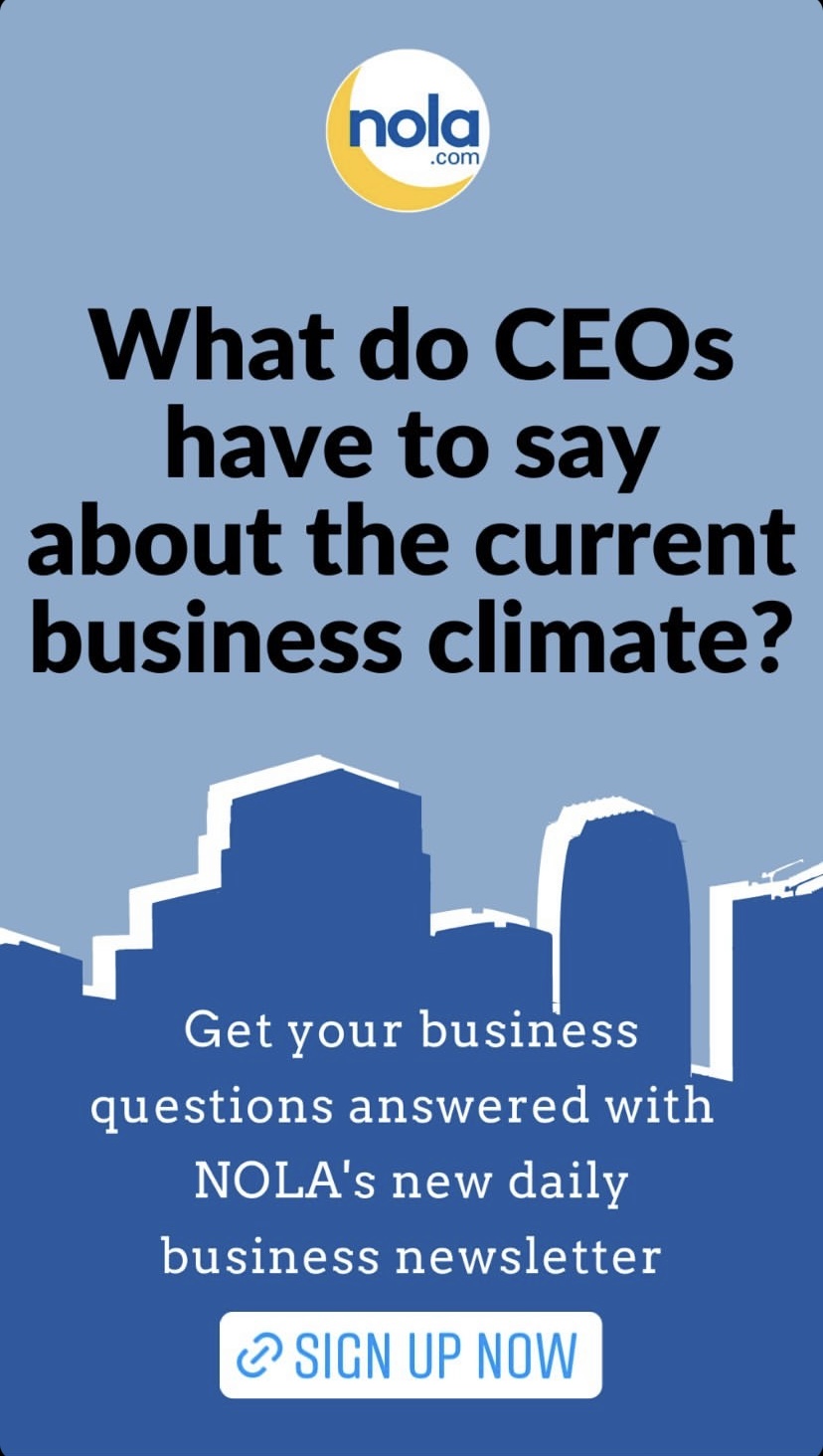 For the website, we identified many of our current digital subscribers as possible business newsletter subscribers, so we planned promotion in 5 ways. Beyond adding the sign up to our newsletter sign-up page, here's how else we promoted the newsletter:
On the homepage as a link asset, indicated by the blue square
At the top of the nola.com/business page
In all stories as a widget
Coded as a link into some business stories
As a pop-up on stories for non-subscribers
For event related promotion, NOLA.com | The Times-Picayune recognized New Orleans' top workplaces with an event celebrating their accomplishments. The marketing team leveraged these connections to promote our newsletter to top New Orleans businesses.
3. Paid marketing
Our subscriptions and acquisitions director, Claudia Laws, scheduled lead generation marketing on Facebook. This means that when a person clicks on a link to a NOLA.com business story from Facebook, they are required to type in their email before they can access the article. We have acquired over 1,000 leads to date at $0.50 per lead.
The marketing team also launched a campaign on Facebook targeting people with household incomes of over $65,000 and people who live in New Orleans' Central Business District. This campaign is scheduled to run from early June through the end of July.
4. Newsletter cross-promotion
NOLA.com has over 15 newsletters, so we used some of these to advertise for NOLA Business Insider. Promotional copy went in the weekly food and restaurant newsletter, the weekly minority business newsletter, and the twice-daily top headlines newsletter the week leading up to launch through several weeks after launch. We had the most flexibility with the twice-daily newsletter, so we began to experiment with how and where the copy would appear. Our first iteration was as its own paragraph at the bottom of the first block of stories.
The second iteration was including it with a photo as a link asset in the middle block of stories.
In the third iteration we attached it to a business story that was included in the first block of stories.
We found that the second iteration drove the most clicks in the 4 a.m. headlines email, and the third iteration received the most clicks in the lunch time email.
We also sent an email to the sign up list of the twice-daily newsletter, introducing them to NOLA Business Insider and encouraging them to sign up. This email had an open rate of 45.66% and received more than 1,000 clicks. This email included the sign up link in six different places, and was sent the day before the newsletter launched to more than 90,000 people.
5. Connections with community
The advertising department partnered with outside entities to promote our newsletter launch. The New Orleans Chamber of Commerce agreed to send two emails to their list in July, and similar deals with neighboring parish's chambers are in progress.
6. Analyzing Effectiveness
Once the campaign was over, I analyzed the effectiveness of each organic promotion technique.
We saw that Twitter and Facebook were most effective in building our sign-up base, so we leaned into these platforms and pulled back on Instagram and other newsletters.
We saw a jump in sign ups from paid marketing on Facebook before the newsletter launched. Since launch, promotion has continued in business stories, in the Lunch Line newsletter when applicable to a story, and as paid advertisements on Facebook.
7. Pivoting when sign ups plateau
About two weeks after we launched, at around 1,800 sign ups, our list's growth slowed dramatically. For about a week, we saw no more than 100 new sign ups. We decided to send another promotional email, this time to people who were digital subscribers to NOLA.com, but weren't getting the twice daily headlines newsletter.
We also identified some upcoming, big business stories that could help us promote the newsletter. On Facebook, we included the link and some copy in our typical story promotion posts.
On Twitter, we used a carousel to promote both the story and the newsletter.
We also sent a desktop push alert encouraging people to sign up which generated several hundred more sign ups.
With these two tactics, we saw our numbers start to rise again.
We've been collecting sign ups since May 24, and are at 3,297 as of July 28. Our ability to pivot when we noticed the sign up numbers trailing off helped us get back on track towards our goal of reaching 10,000 sign ups within three months.
Comments