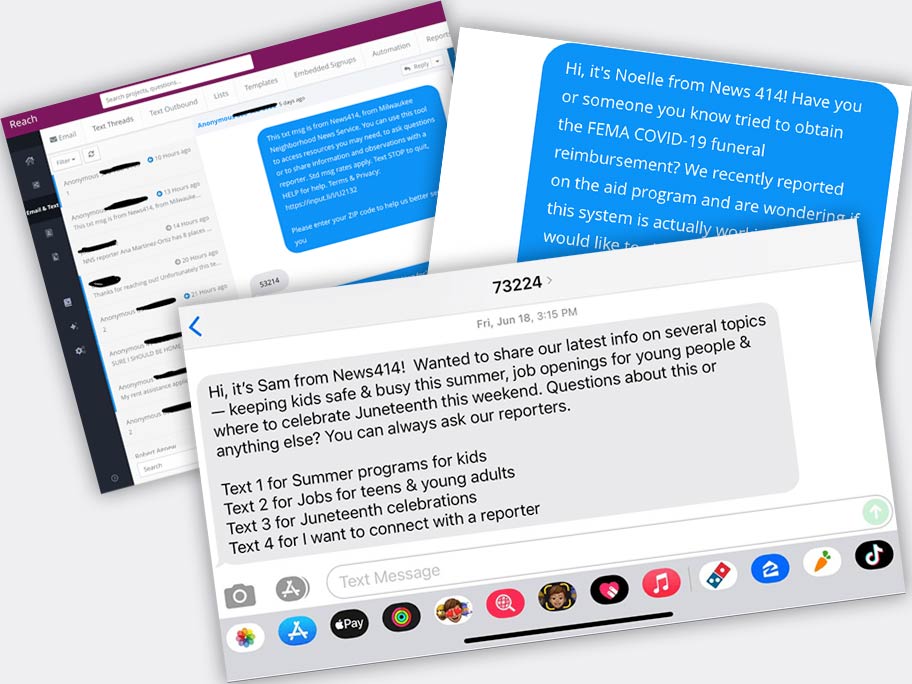 How texting can help boost your service journalism efforts
Listening to what your community needs
The Wisconsin Center for Investigative Journalism's partner, Milwaukee Neighborhood News Service, is trying Public Input to talk to readers and help them find resources for housing, food pantries, or even speak directly to a reporter.
When a reader texts "MKE" to 73224, an automatic response is generated with several options. Option one gives you information on housing, food, jobs, and civic engagement. The second gives you free COVID information. Option three gives you the ability to speak directly to a reporter, and four lets you text and read the information in Spanish.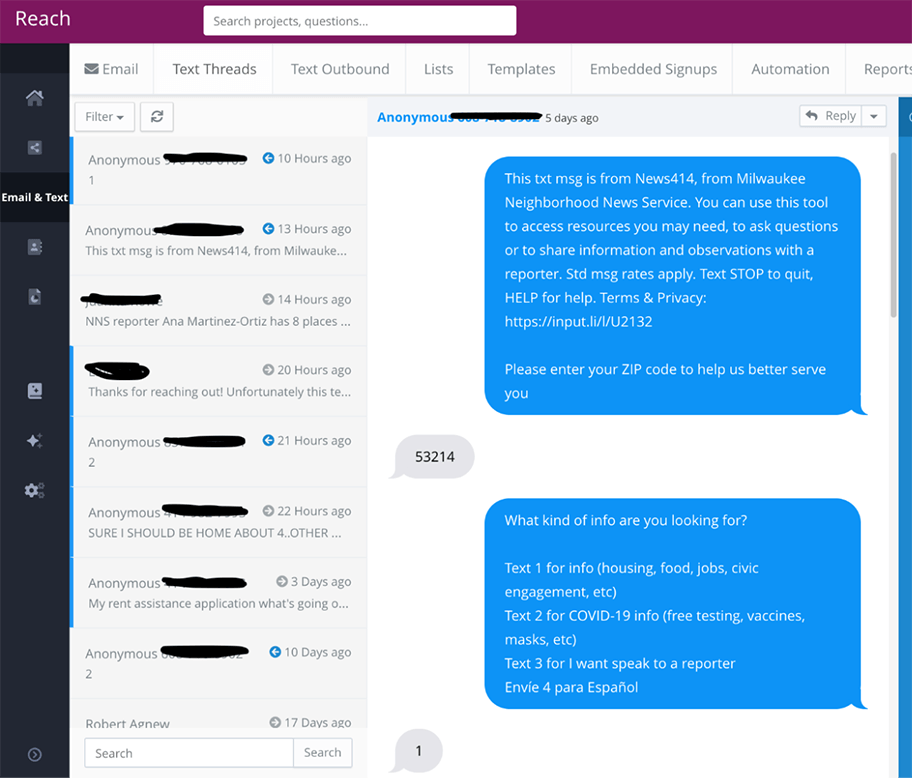 Every week on social media we also post new resource information in the form of graphic slides, including the ability to text the newsroom to obtain more information or reach out to a reporter. The topics range from mental health resources, to housing assistance.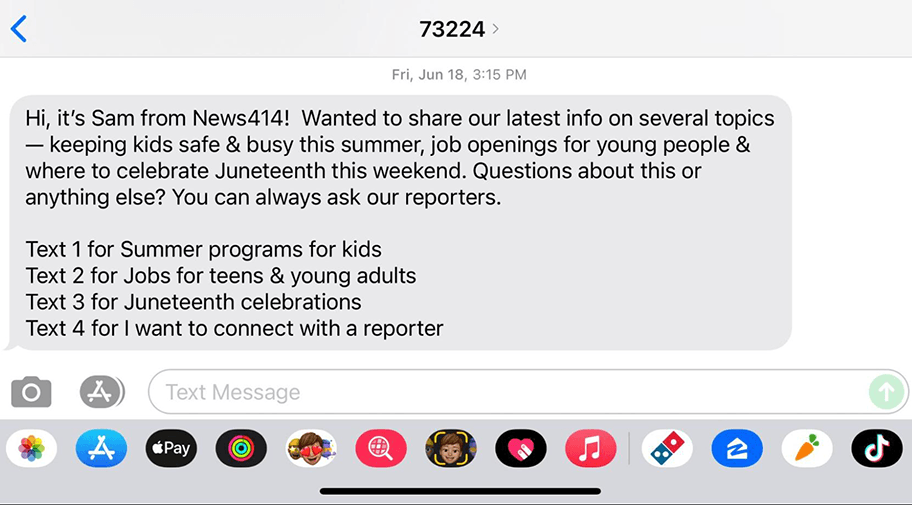 Public Input also allows reporters to send out mass texts to either all of those subscribed to the number or even a select few based on what they said they were interested in, to assist directly with the needs of readers.
For example, when we learned that one person in our community had struggled to obtain FEMA reimbursement for COVID-19 deaths. The newsroom was curious if others in the state had similar issues. So we went into Public Input and created a text to be sent to those who expressed interest in hearing about COVID news & resources, along with those who wanted to learn more about rent assistance.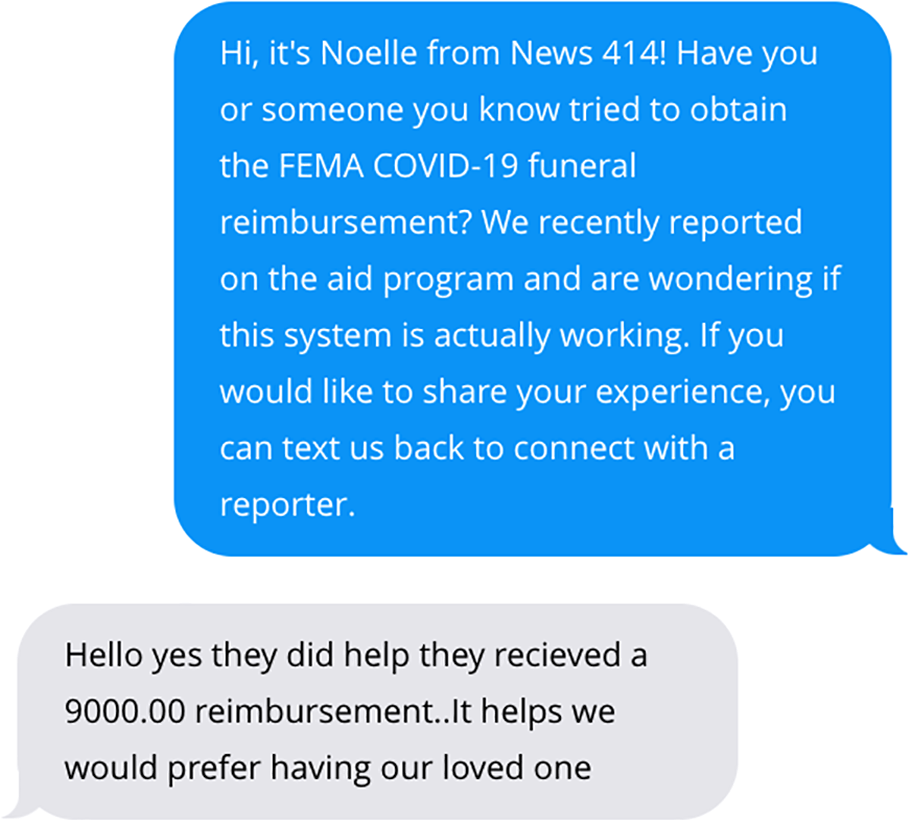 Then we were able to watch in Public Input the responses to the question and respond directly to each person in real-time.
How did Milwaukee Neighborhood News Service decide to focus on housing resources, rental assistance and food pantries? Using its phone hotline, the staff found that people in the community wanted to hear more about these things, and couldn't find other news organizations reporting on them.  
And answering texts is not the only benefit of this effort. An upcoming resource we are planning for the website release is an updated map of all the local food pantries with each organization's phone number and hours so subscribers can easily find which are closest to them.
Before the pandemic, the staff would go to the streets and ask people what they would like covered more in the news, but this system has allowed them to reach out to subscribers remotely while keeping everyone safe through the pandemic and reach those who they might not have had the ability to run into on the street when they were out there.
It's a tool that should be a regular part of the newsroom routine even after the pandemic is a thing of the past.
Noelle Alviz-Gransee is the RJI Student Innovation Fellow at The Wisconsin Center for Investigative Reporting. This summer our student fellows will be sharing dispatches from their fellowships in newsrooms across the country as a part of Innovation in Focus.
Comments