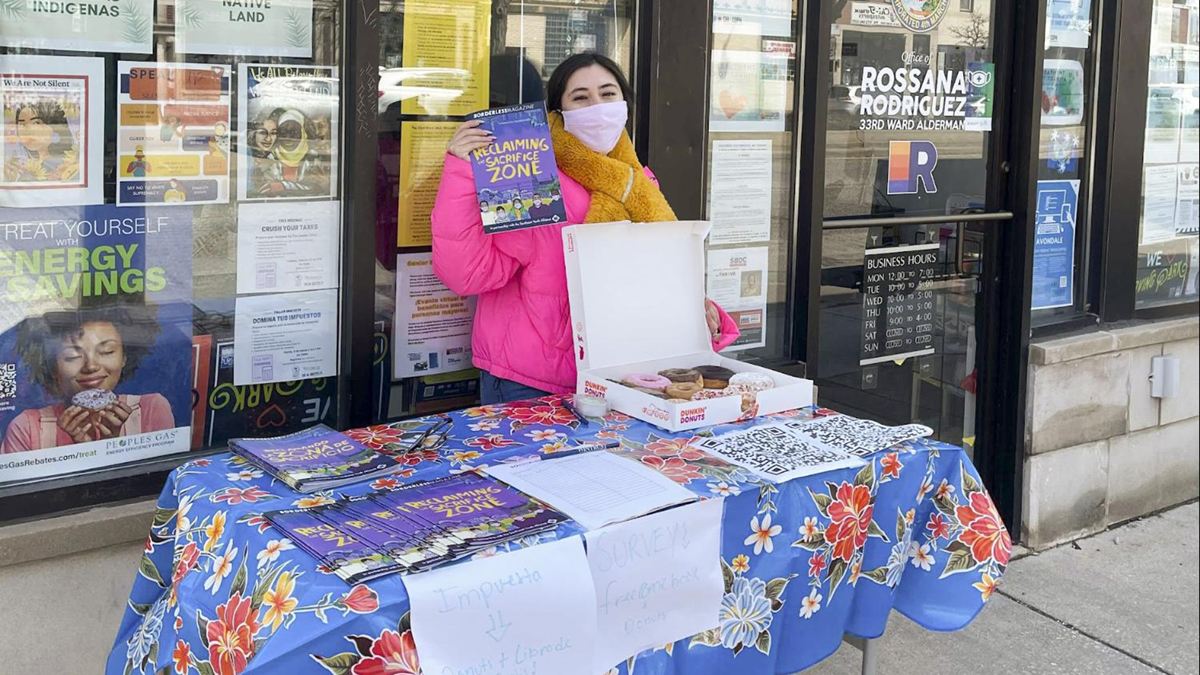 How to implement community listening
Eight steps to begin incorporating field canvassers into your newsroom's work
Borderless Magazine is a small (but mighty!) nonprofit news outlet based in Chicago. We cover immigration and immigrant communities, and about half of our online audience reads our work in Spanish.
In order to stretch our modest resources and better serve our audiences, we borrowed a page from community organizing and hired field canvassers to connect with our community in February 2022. We believe that using community organizing techniques can be a gamechanger for news outlets, particularly ones like ours who are serving communities often neglected by legacy news outlets.
We were honored to win this year's Community Engagement Award from LION Publishers for our work with field canvassers. And we're excited to see other news organizations like El Timpano in California and MLK50 in Tennessee experimenting with community organizing techniques to listen to community members, give out surveys, build email lists, and more. Want to try it out in your own newsroom?
Eight steps to begin incorporating field canvassers into your work
Step 1: Determine the scope of the work you want done
At Borderless, our main goal for our initial cycle of field canvassing was to have canvassers give out our community information needs survey in Spanish. This survey helped us understand the holes in our coverage and determine what future news products we should build to serve them.
In addition to this goal, we wanted field canvassers to collect people's phone numbers and email addresses so we could add them to our Spanish subscriber list. In an additional mini experiment, we gave people the option of giving us their email or phone number so we could see which way people prefer we communicate with them.
And finally, we wanted field canvassers to hand out some of our print products, like our award-winning comic book and a collection of stories we produced in collaboration with Catchlight that highlighted Latinos helping their community during the COVID-19 pandemic.
Step 2: Plan a realistic timeline for the work
Once we determined the scope of the work, we decided that 12 weeks would be a good amount of time for our first cycle of field canvassing. By timeboxing our experiment, we were able to create a tight schedule and map out what we needed to accomplish each week. In future cycles, we likely will change the timeline, depending on what we're trying to accomplish.
In drafting a schedule, we also took into consideration our staff's workload, seasonal weather and COVID levels. We tried to build in some buffer time in case there was a spike in COVID cases or a big snow storm that might prevent canvassers from going out.
Step 3: Decide where you want field canvassers to go
We knew we wanted to reach a diverse population. Spanish speakers in Chicago come from the Americas and Caribbean and span the spectrum of ages, economic statuses and races.
With this diversity in mind, we chose four predominantly Latino neighborhoods in Chicago to begin with: Pilsen and Little Village on the South Side and Albany Park and Belmont Cragin on the North Side. By pairing nearby neighborhoods, we could have one field canvasser easily cover two communities.
Step 4: Hire field canvassers
We wrote a simple job description and started sharing it both with our regular audience and with groups and organizations working in our target neighborhoods.
Given the goals of our project, we looked for candidates who:
Spoke Spanish fluently
Lived or previously lived in one of the four target neighborhoods
Had a connection to immigration (either being immigrants or the family of immigrants)
Field canvassers represent Borderless when they are working in the community, so it is important to find people who we could trust. We were also looking for confident speakers who weren't afraid to talk to strangers.
Once we found our field canvassers, we drew up a simple contract. Neither of our canvassers had working cars, so in addition to an hourly rate, we offered them a travel stipend to cover bus and train fares during their 12-week cycle.
Step 5: Decide which locations, events or organizations you want to prioritize
An important benefit of hiring field canvassers who live in the neighborhoods they were working in, is that they already know the area. They know, for example, which strip malls already welcome street vendors and might be OK with field canvassers hanging out or which parks are busy after school and might be good to go to for talking to parents. Similarly, they know community organizations, places of worship, businesses or festivals that might partner with us as we deepen our community listening.
Before going out for the first time, we asked our field canvassers to come up with a list of potentially friendly people, places and organizations that they could tap into over the 12-week period. Some weeks the canvassers would do "cold calls" at a place like a train station or knock on people's doors. On other weeks, they would go out to an event or place where they had an existing contact. This mix of spontaneous and planned interactions ensured we were reaching a diverse group of people and not just the same churchgoers or community activists week in and week out.
Step 6: Document your work and learnings
We had weekly meetings with the field canvassers to see how their work was going and to adjust our strategies as necessary. To keep track of what we were learning, we maintained two Google Docs: a diary and a master document.
In our diary, the field canvassers and our staff wrote down how each week went. We were careful to note any challenges the canvassers had and what went well. We also sometimes asked canvassers to answer specific questions we had, such as what they think is missing from the survey data they had gathered thus far.
Our master document contained everything a field canvasser would need in an easy to read format – from basic expectations to our calendar to links to the survey to how to reach us if there was an emergency. If there ever were a misunderstanding or question, we could refer back to the master doc to see what we were supposed to be doing. This helped create both accountability and a visible record of progress for everyone.

Step 7: Iterate as you go
By documenting and asking questions each week about what was working, we quickly learned what needed to be adjusted. We had to be nimble in order to make the most of our experiment, so we tried to respond to our field canvassers suggestions quickly.
These suggestions included shortening our survey, creating a budget for the canvassers to buy food – empanadas or donuts – to give away to the folks they talked to, and making large pins that they could wear on their winter coats that identified them as working for Borderless.
Step 8: Cross the finish line!
Despite COVID surges and Chicago's lingering winter, we made it through the 12 weeks. In our debriefing, we asked everyone involved what they would do differently and made sure to write that down for our next round of community listening. Most importantly, we assessed whether we met the goals we laid out for ourselves at the beginning of this work. (Which we did!)
In future articles and the final playbook for using field canvassers, I'll dive deeper into these steps. Do you have any questions about how to work with field canvassers? Have you tried this at your news outlet? Let's talk! Email me at nissa@borderlessmag.org
Comments