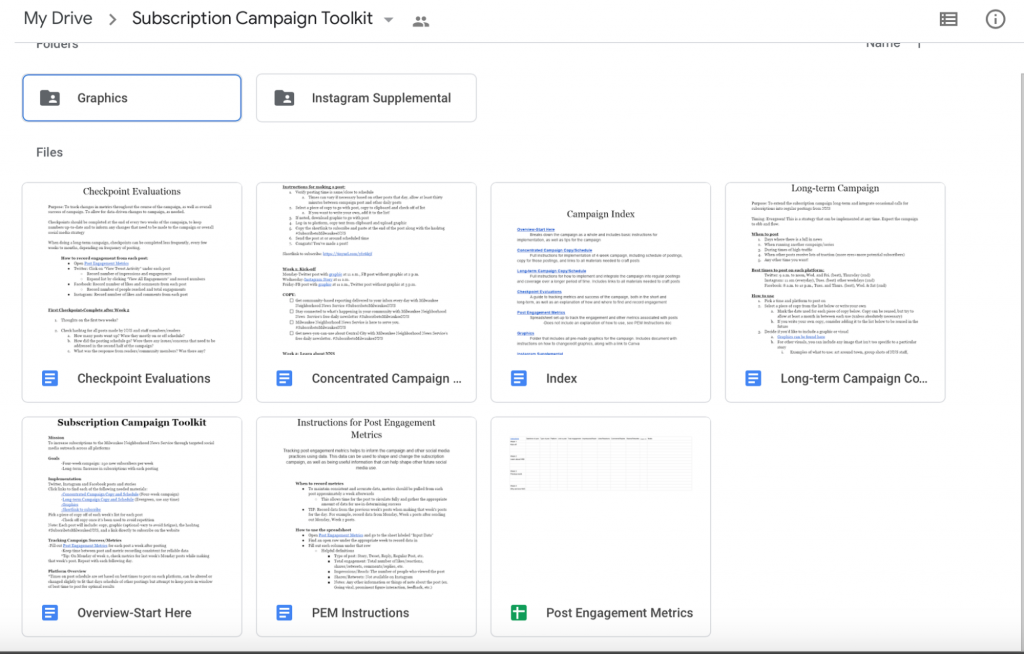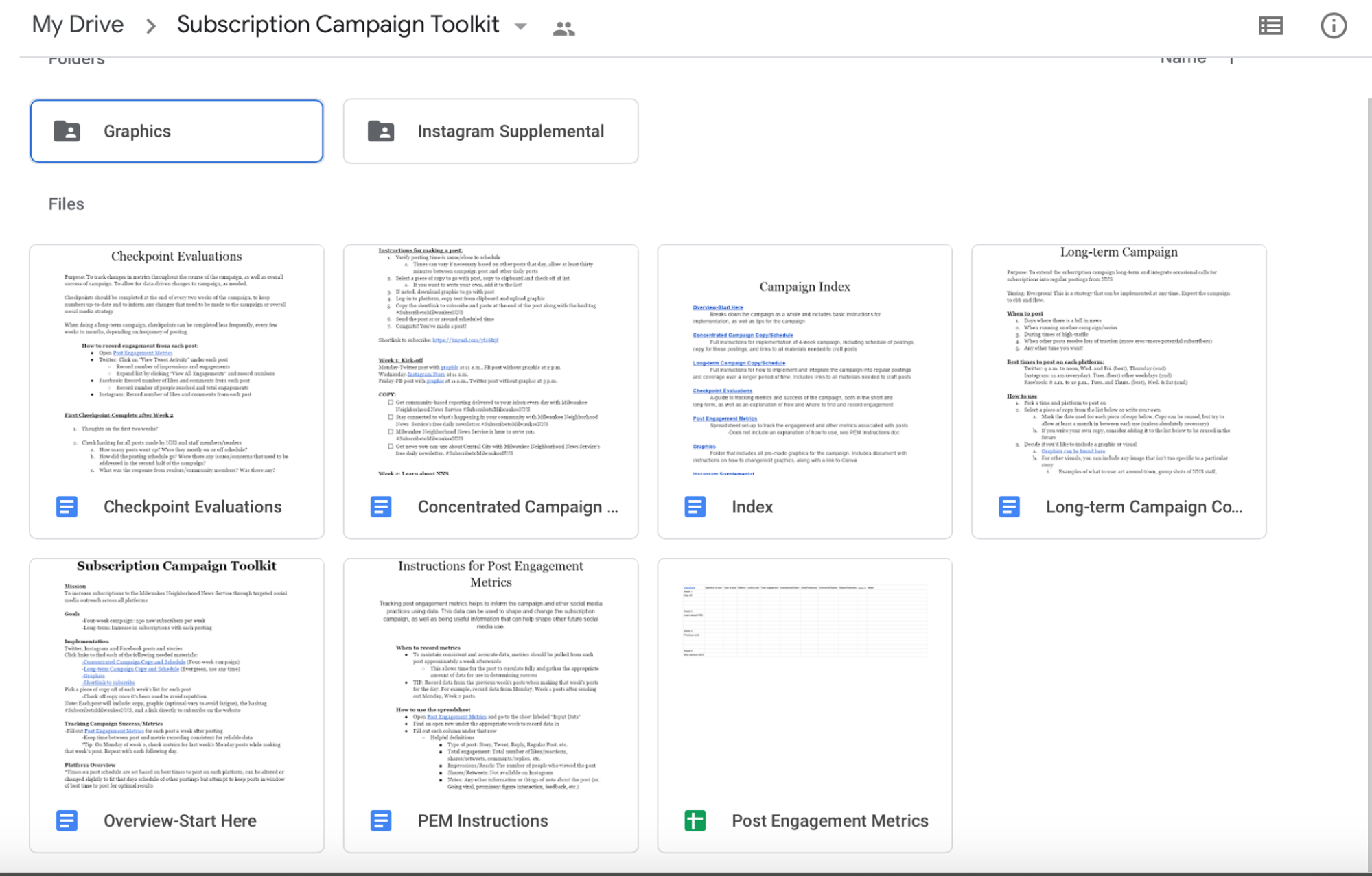 How to successfully hand-off projects and initiatives
Creating toolkits, guides and schedules for your newsroom
When working in a temporary position, it can sometimes be difficult to be able to see ideas all the way through. As I prepare to leave my fellowship, I've put together multiple toolkits to help the Milwaukee Neighborhood News Service continue to implement the initiatives and social media campaigns I have been planning all summer. My biggest fear: a campaign that doesn't launch because I've left the newsroom. So, I've spent a few weeks creating extensive toolkits to help the person taking over after me to implement the work I've done.
Here are five ways to help initiatives continue:
1. Create a centralized location to house all relevant information
The easiest method I've found for sharing information and documents with multiple people is Google Drive. To help facilitate an easy hand-off, I created a new folder on the NNS Google Drive that houses all necessary documents, including graphics I designed, detailed plans for social media campaigns, notes on different platforms and instructions on how to use and implement everything. By creating it on the shared drive instead of my own, it will be able to be more easily shared by those who will be working on it afterwards. This also helps avoid any issues down the line of the drive not being accessible to the people who need it, by keeping it with the outlet instead of a personal account. (And it helps free up some space on my own Google account!)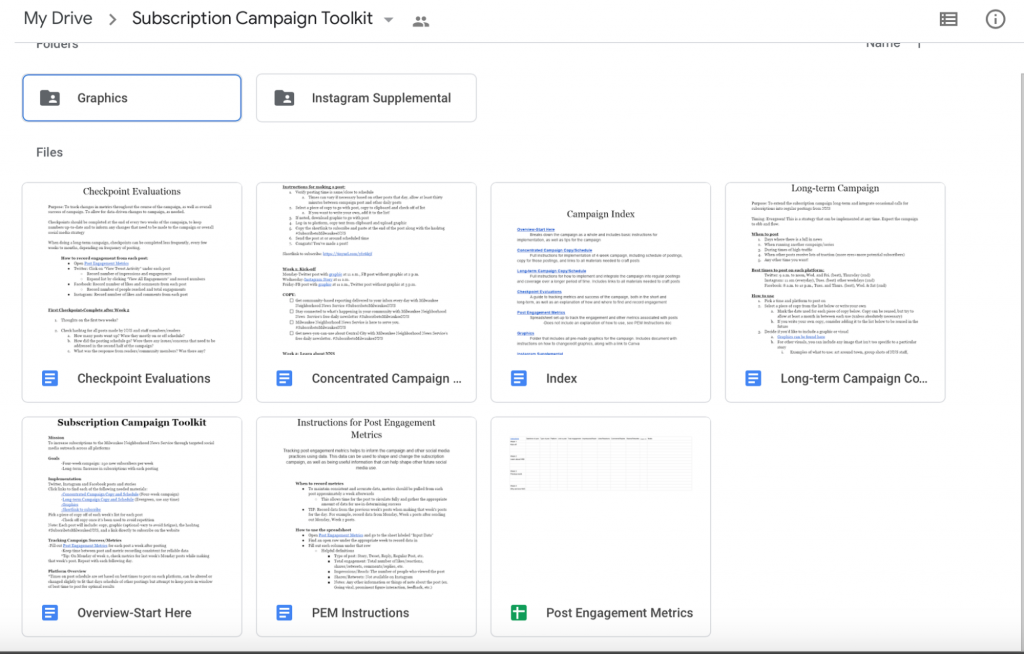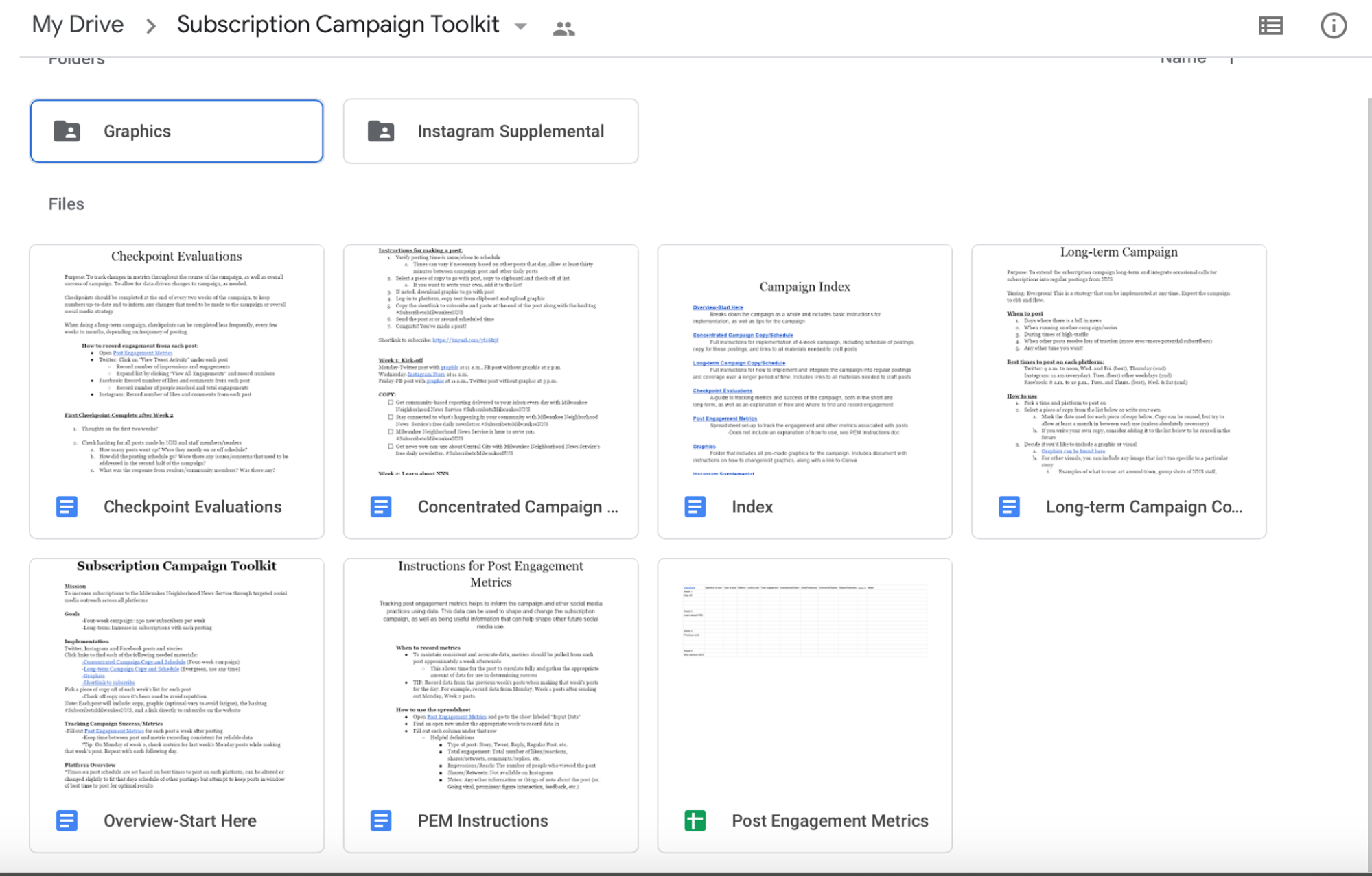 2. Create an index or table of contents with links to the materials
Leaving detailed and specific instructions along with all of the necessary materials means that the folder I created for this project is very full. To help organize things and make the folder easier to use, I created an index that includes the title of each document and sub-folder alongside a link to it and a short sentence or two beneath each title that explains what they can expect to find there. This will help when someone is trying to locate a specific material or piece of information during the implementation process, as well as making it easier to see an overview of what is in the toolkit.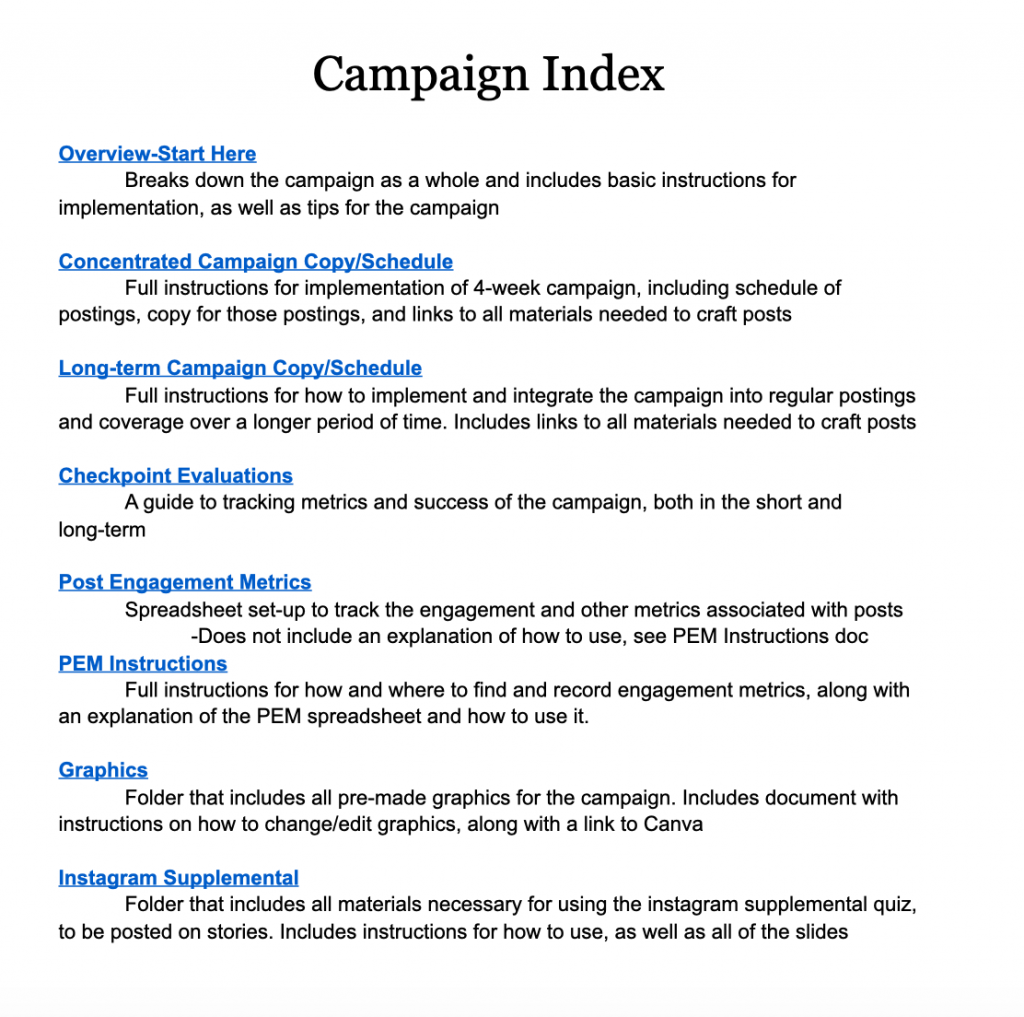 3. Write out detailed instructions
The hardest part of handing off work is knowing that you won't be around to help implement all of your plans and potentially not even knowing who will be using them. To avoid creating confusion, leave specific instructions that explain what every element is, how to use them and what to do if there are any problems during implementation. Anticipate any questions someone might have when looking at your planning and include detailed instructions that address them. For example, I included steps on how to post a quiz I created to Instagram stories, which might be second nature to some but a new concept to others. If instructions are too detailed, people may skip over them, but if they aren't detailed enough, it may lead to the project being stalled or even canceled.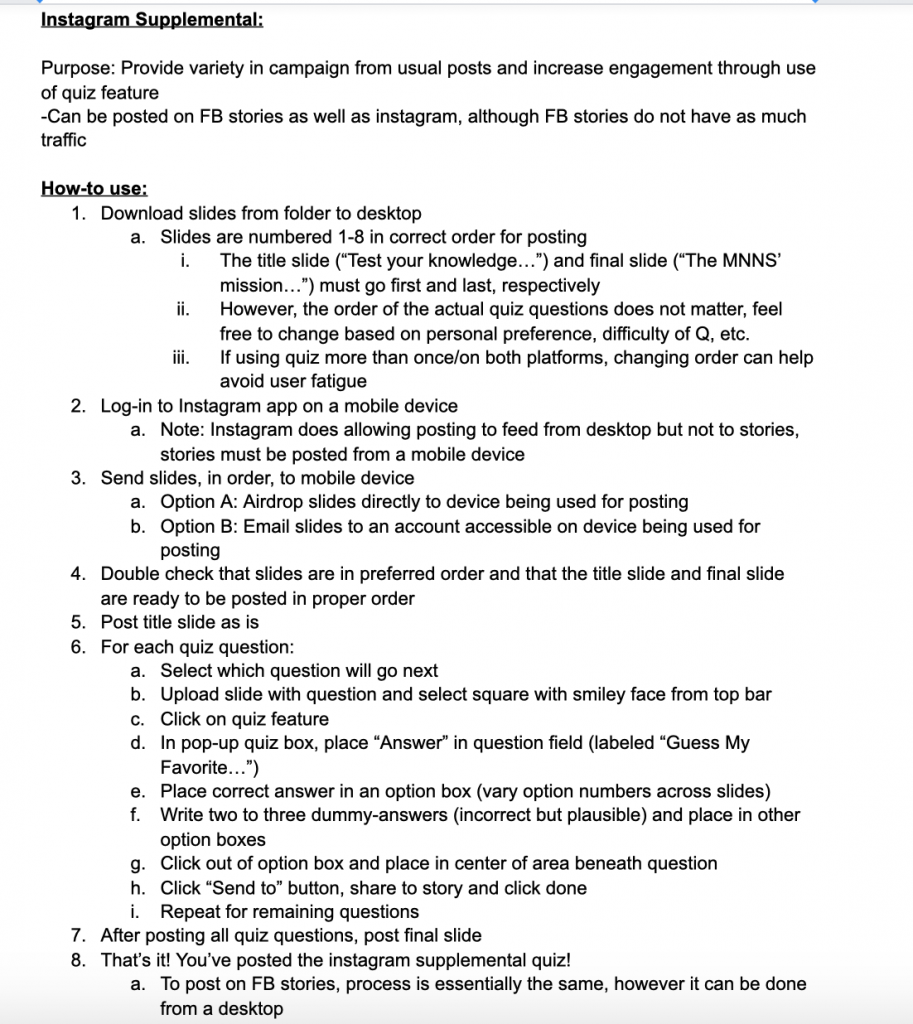 4. Include ways to extend and adapt the projects
With the rapidly changing nature of journalism, sometimes ideas become outdated before they're even ready to publish. To help your project maintain relevance, find ways that it could be adapted if needed. For the social media campaign I've been planning, I included both the concentrated, four-week version of the campaign I've been working on throughout the summer as well as a modified version that can be used slowly over the course of several months and beyond. This will allow the person who is responsible for taking it over to have options in how they use the work I've prepped, along with extending the usability of the campaign. I also included tips and ideas for how to adapt some of the work I've done, such as graphics and copy, to allow the person taking over to add their own personal touches without having to completely re-do or scrap my work.
5. Get another set of eyes on the documents
Chances are that if you're handing off a project, it's because you've spent a decent bit of time on it. Because of that, you may not see the ways that they only make sense to you. For example, I've been working on a spreadsheet that can be used to track the success of the campaigns, using various metrics that can be pulled off of social media. While the spreadsheet makes perfect sense to me, it wasn't until I had someone else take a look that I noticed there were several column titles that were less than self-explanatory.
Abigail Shaw is the RJI Student Innovation Fellow at the Milwaukee Neighborhood News Service. This summer our student fellows will be sharing dispatches from their fellowships in newsrooms across the country as a part of Innovation in Focus.
Comments