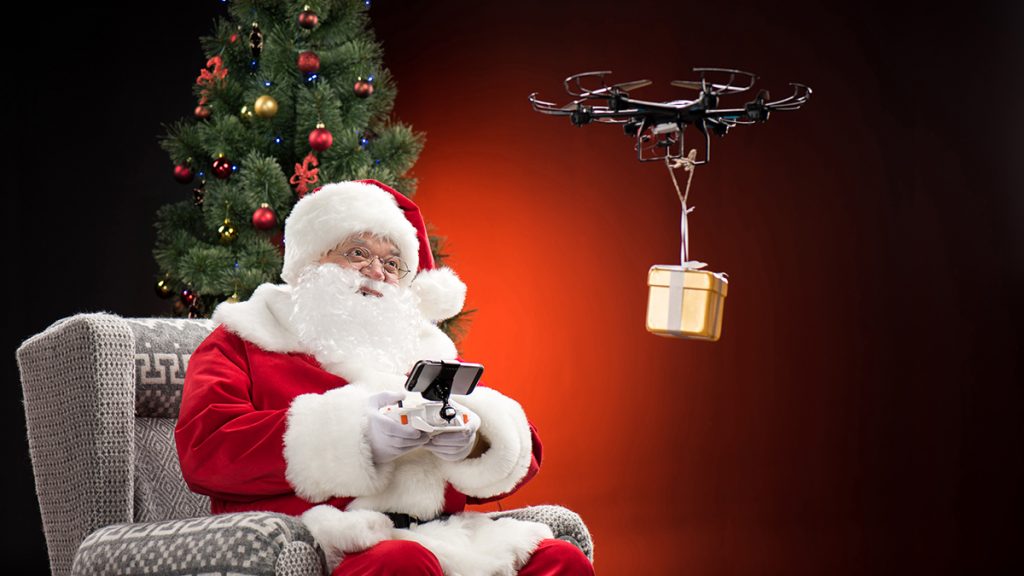 Should you buy a refurbished drone for Christmas?
Refurbs can come with substantial savings, but check the warranty policies
The sacred retail days of "Black Friday" and "Cyber Monday" prompted eager marketers to fill our inboxes with all manner of sales pitches to put some new electronic gadget on our doorsteps. More than ever, it seems drones are part of the Christmas shopping onslaught this year. But with DJI dominating the drone market worldwide, prices seldom vary from the standard suggested retail price — even when trying to lure Christmas shoppers.
Smart shoppers will notice a fairly deep discount on drones sold as "refurbished." Just what that term means and whether those up-front savings will cost you in the long run is a question many pilots and would-be pilots will ask themselves.
You won't actually find a legal definition of "refurbished" among our many consumer laws. The law prohibits anyone from selling a used product as new, but it does not go further as to what refurbishment might mean. The generally accepted definitions of the term include:
A new item that has been sold to a consumer and then returned without being used or opened
An item that has been used, but was returned and restored to like-new condition
An item that is new, but has damaged packaging
An item that was used as an in-store or other type of demonstration unit
Most people would have a wide range of responses to the listed conditions. Who wouldn't want a deep discount on an item with a tattered box or that had never been opened by a previous buyer? At the same time, most would have to think hard before buying a demo item, not knowing how many hands had touched it and what sort of rough treatment it received on the showroom floor.
Even with the lack of firm legal guidance as to what that refurbished product has been through before it reaches the shelf to be sold, careful consumers can turn to drone manufacturers to get more information about the refurbished products they are considering.
The world's leader in drones is DJI, with 54% of the commercial drone market in 2021. DJI aggressively sells refurbished products on its website and through other online retailers. At the time of publication, it lists a refurbished version of its popular Mavic Air 2, a middle-of-the-line prosumer drone, for $679 — a $120 savings over buying a new unit of the same model. Slightly more significant savings exist on the pocket-sized DJI Mini 2, with new units selling for $449 and refurbished models listed at $359.
These savings range from 15% to 20% — but are they worth it? The company backs up its refurbished products with a very specific list of quality specifications. Items listed as refurbished, which DJI calls "Certified Refurbished," are listed as pre-owned products that have been prepared for resale. DJI claims all its refurbished products meet a number of standards before sale:
All units have had full functionality testing, replacing any defective parts along the way
All units are cleaned and inspected
All units are repacked with all accessories and shipped in new packaging
All units must pass the same quality testing as new products
The company does warn that refurbished items may have minor aesthetic flaws such as scratches, but promises those blemishes will not affect the performance of the product.
What about the all-important warranty? DJI gives the same manufacturer's warranty to its refurbished products as its new products — 12 months on most drone components. It also offers consumers of refurbished products the chance to buy the same extended service plan available on new units, offering repair and replacement in the case of a crash or other drone damage.
Other drone manufacturers have similar refurbished products and policies, sometimes at greater savings. Second-place Autel Robotics, which holds 7% of the commercial drone market, sells its flagship EVO model bundled with popular accessories new for $1,099, while the refurbished version goes for just $699 — a 36% savings that dwarfs DJI's discounts. The company claims its refurbished products undergo extensive inspection just like DJI, replacing any parts that fail testing. It is a bit more specific on one key item, saying batteries sold with refurbished units may have up to 10 charging cycles on them. And it differs from DJI by not offering new and complete packaging and not promising the inclusion of some USB cables for refurbished items. Perhaps the biggest difference, though, is the warranty. Like DJI, Autel Robotics offers a 12-month warranty on its new products but only a six months on its refurbished products.
Clearly, drone manufacturers have put substantial effort into building a market for refurbished drones, moving products that might otherwise go to the landfill. So should you take advantage of the savings or stick with the brand new product? Many consumers boast about the savings they get on refurbished products, holding their quality up against new items that fail at the same rate. Others are skittish about buying something someone else once used, believing it's never the same once it goes out the showroom door. Whether you land in one of these camps or reside somewhere in between, consumer experts suggest you ask a number of questions about any refurbished products before you buy it:
Who performed the refurbishment? Did the original manufacturer put the item back in like-new condition, or was the service handled by a third party? Manufacturer work is usually seen as superior to third-party service.
Does it come with all the accessories included with a new model? As noted, DJI includes all accessories with its refurbished products while Autel Robotics does not. Any need to buy additional accessories will cut into the savings provided by buying refurbished and may change your bottom-line calculations.
What will it look like? Both Autel Robotics and DJI let consumers know their refurbished items might be a little scuffed here and there. For some, it's a deal breaker not to have a shiny item to pull out of the packaging. Others figure the drone will get scuffed up on its first few flights, so why pay more for a flawless finish?
Can I return it? Return policies can vary on refurbished items, so it pays to check whether you can fully return or at least exchange an item you don't think is up to snuff.
What's the warranty? This is the biggest question of all. DJI and Autel Robotics offer warranties on their refurbished products, though they differ on how long those warranties last. A good warranty is the best way to protect yourself from a refurbishment gone wrong, so looking over the fine print on any warranty is worth the time.
Buying a drone is an exciting time for any pilot. For those who have been flying company-owned drones and now want to get an aircraft to call their own, it's a big step. The savings found on refurbished drones can make that step a reality for those on a budget.
Comments