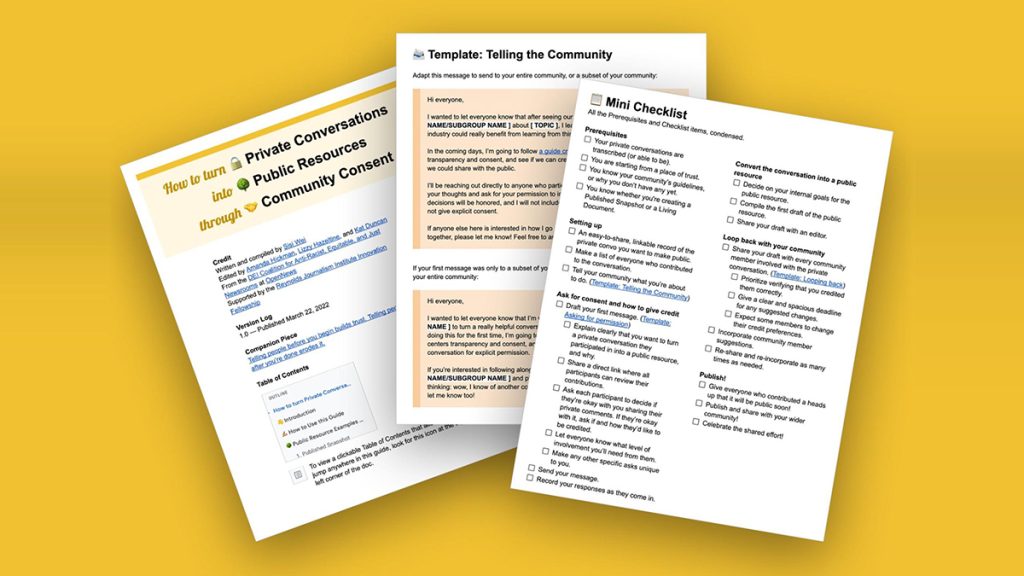 Telling people before you begin builds trust. Telling people only after you're done erodes it
A guide for turning private conversations into public resources through community consent
Many times, it is only because a conversation was off the record that we are able to learn the most — and after learning it, we realize that the broader community could benefit from learning it too. So how do we share knowledge from conversations we all agreed would be private, in a way that builds more trust instead of tearing it down?
I'm so proud to announce the launch of "How to turn 🔒 Private Conversations into 🌳 Public Resources through 🤝 Community Consent," a step-by-step guide for journalists on how to use a consent-based, trust-building process to turn off-the-record conversations into public, shareable resources.
When we were experimenting with the process and putting our original public resources together, I had to grapple with some conflicting tensions I felt about the whole thing, what it means to build trust in a process that has the potential to erode it instead, and how it's crucial that anyone attempting this process to be in a facilitator's mindset and not a gatekeeper's.
The guide was purposefully created using Google Docs, so that anyone who wishes to use it can make a copy. Journalists or anyone can then check off steps as they follow along, customize the templates into newsroom- or community-specific messages, and take notes.
Written and compiled by me, Sisi Wei, and edited by Amanda Hickman, Lizzy Hazeltine, and Kat Duncan, the step-by-step guide is based on the process developed by myself, Amanda, and Lizzy in the DEI Coalition to publish two public resources based on private conversations between members, all while honoring the Coalition's shared community agreements and values and default off-the-record nature.
You'll experience some tension, and that's good
I've spent a lot of my career molding safer spaces so that journalists can speak their mind, be heard, and collaborate on how to make the industry more equitable without fear of repercussion. But there are inherent tensions to what I do.
I will celebrate the day when journalists feel like they can speak openly and plainly about diversity and equity issues in their newsrooms without fear of repercussion, and without flinching in anticipation of immediate harm. But we aren't there yet.
By making safer spaces ("safer" because while I try very hard, I can never guarantee a space will be completely safe), I'm creating physical and digital places where we can be vulnerable, share what has and hasn't worked, and learn from each other more plainly and honestly. We build trust, we hold each other accountable, and we create a place that's off-the-record. Being off-the-record, too, has led to raw, touching, and insightful conversations that people in the space can see and learn from.
Within these off-the-record spaces, we care about everyone in our communities, not just those who learned about our specific space and joined it. For example, the DEI Coalition is dedicated to creating an anti-racist, equitable, and just journalism industry, and we know that there is a broader community doing that hard work beyond our nearly 1,000 Slack members. Similarly, as a member of JOC Slack, there are journalists of color I meet at every conference who had never heard of the Slack before.
So here's tension #1: Within these off-the-record spaces, there are many ways we take action to help the broader community, but giving the broader community access to our fruitful conversations isn't possible. There will always be many people who don't know about us.
With the help of fellow members of the DEI Coalition, we tried to change that by flipping the script. Instead of focusing on who was a member, what if we tried to make some of our conversations completely public? Earlier this year we released two public resources based entirely on the private conversations between our members. One tackles how managers can build trust and be good allies to their colleagues of color, the other compiles a big list of useful resources and recommended reading on hiring practices. This lowers the barriers to access significantly, from finding and joining our Slack community at the right time, to just finding out about a link on the Internet.
Yet in creating a public version of one off-the-record conversations, I also had to grapple directly with tension #2: The DEI Coalition Slack promises a confidential, off-the-record space! It's why conversations are more open, and we did not want to erode that trust in any way. Instead, I had to figure out a way to share publicly while building more trust.
Telling people before you begin builds trust. Telling people only after you're done erodes it
Our step-by-step checklist starts with: "Tell your community what you're about to do." This is incredibly important if you're looking to build and not erode trust throughout this process. Even if most of your community won't be directly involved, keep them informed.
Our trust-building work can be summarized into three parts:
telling people what you're going to do;
following through;
letting the community check your work.
In the beginning, you not only tell your community what's going to happen, you then reach out directly to everyone involved in the conversation you're trying to share publicly. At this stage, you set clear expectations that everyone gets to choose for themselves whether they want their comments to be included.
Especially in a default off-the-record community space, getting explicit permission is not only just the right thing to do, it's also what we need to do to adhere to our community agreements. For example, in the DEI Coalition Slack, our community agreements say, "We agree that conversations here are off the record, unless otherwise explicitly stated and agreed upon," and I'm willing to bet that most off-the-record scenarios have the same agreement, explicitly or implicitly. Following both the letter and the spirit of those agreements builds trust.
You are a facilitator, not a gatekeeper
Creating a public resource based on what community members have shared with each other is not the same as reporting an article. It's important that your mindset reflects this difference from the beginning.
A big part of the resource creation process is looping back with your community, where you show your latest draft of the public resource to everyone who contributed to it, so that they can check your work — verify you quoted them correctly, or that you omitted their contributions as promised, or that you honored their wishes about whether to be credited and how.
In this situation, you are not the reporter responsible for the piece and everyone else is a source with minimal input on what you decide to publish. Resist thinking about this part of the process like showing finished stories to your sources.
Instead, approach this process from a community mindset. You are just one person, working with a group of people, to respectfully and with consent turn a conversation that all participants thought would be private into something public. You are a facilitator helping the community finalize what to publish.
You've already decided that the original conversation is worth sharing with the world. Now, as you facilitate that conversation into something that can be published, sharing becomes the most responsible and ethical thing you can do.
We've created two processes, but there's so much room to grow
Our guide shares two different types of public resources that were based on private conversations, and also shares where the process to make them public is different. But we only have two processes because we've only tried it two different ways! There are so many different ways to do this that all center consent and transparency, and we'd love to see how you adapt this process to meet your situation.
If you read our guide and decide you want to try creating a public resource, please share how it goes with me. I'd love to hear what type of situation you were in, how the guide worked for you, and the public resource you made. You can find my email address here.
About this series: In March 2021, OpenNews and more than 100 members of the journalism community launched the DEI Coalition. It now has more than 900 members who are committed to learning and taking action to make the journalist industry more anti-racist, equitable, and just. Through this RJI Fellowship, Sisi, the coalition's founder, will be sharing techniques for facilitating community in a more equitable way, as well as creating and sharing guides and other resources you can use to implement this work in your own newsroom or organization.
Comments