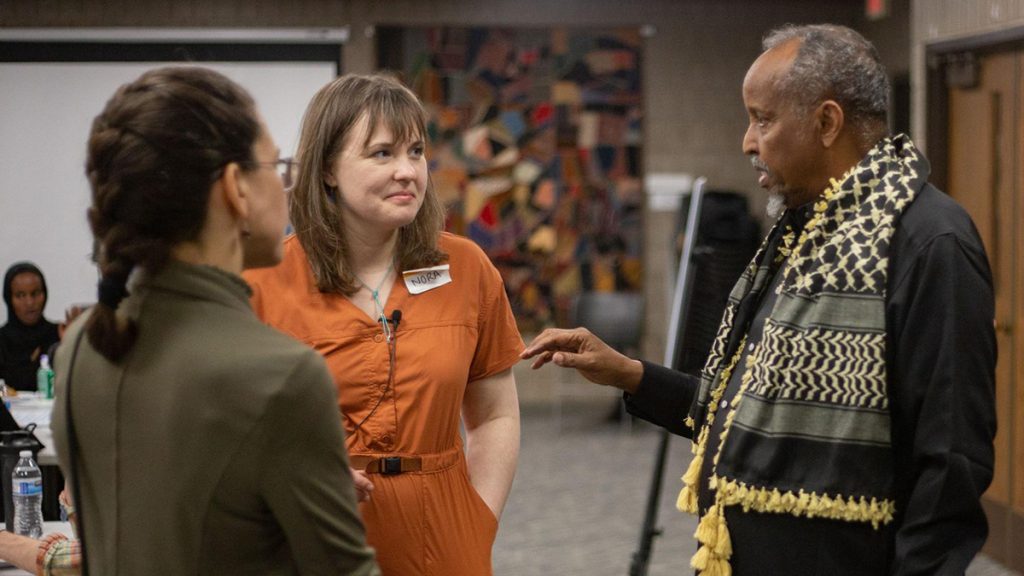 The highs and lows of launching multiple products in a news startup
Project Optimist launched with a single product and now works on multiple fronts
It took me two years to fully understand why entrepreneurs are told to focus on one product. And it may take me two more years to round out the multiple products that I've launched under Project Optimist.
Project Optimist is a news startup serving greater Minnesota – the small cities and rural stretches outside the Twin Cities metro. We have a newsletter featuring solutions journalism on environmental, business and social issues, and that is my MVP (minimum viable product) which I launched in 2022.
I have a few other products too. My priority among them is Shades of Purple, a series of community dialogues that aim to bring people together to discuss challenging topics such as guns, abortion and cultural differences. It's tied to Project Optimist's mission, revenue streams and journalism.

News startups need a range of revenue streams to build sustainability, and for Project Optimist that meant developing multiple products in my first year. It has meant saying: "Yes, and…" to training programs, contracts and potential partners.
Before becoming an entrepreneur I did not consider separate journalism offerings to be separate products. The social media feed, the podcast, the online and print articles, even the events all blended together in my mind.
But I learned from excellent teachers, and it has finally sunk in, that each of those pieces are separate products with separate audiences and distinct purposes. Now I can see that my training program is a separate product. My consulting work is a separate product (though I'm not taking new contracts right now). And it's a lot to juggle.
How I got here
My earliest research on launching a news startup included insights from John Thornton, founder and former board member at the nonprofit Texas Tribune. Thornton wrote and talked about the concept of "revenue promiscuity." It means tapping corporate and philanthropic sources for funding along with direct appeals to readers.
I have tried to lay the groundwork for a range of revenue streams and to make Project Optimist a nonprofit. We're fiscally sponsored and on our way to nonprofit status. In 2021 I completed two startup training programs and they both championed the Lean Startup model which helped me hone my minimum viable product. I started with a landing page, then a newsletter.
But in 2022 my calendar quickly filled with new opportunities I felt I couldn't turn down. I accepted a consulting gig. I took an invitation to apply for a local grant – which I got – and developed a training program for community and student writers.
I also said yes to fundraising school, Solutions Journalism Network's train-the-trainer program, the Building and Managing a Team Lab from Google News Initiative and LION Publishers – plus many many hours of professional development through my Initiators Fellowship and membership in the Tiny News Collective.
I often say I'm building the plane as I fly. I'm learning to be the boss as I build the business.
In 2023 I committed to launching my Shades of Purple dialogue program. I expect it to draw sponsorships that cover program costs and help fund our journalism. I'm working with two audio producers as well to create a podcast about the dialogues. And Project Optimist continues to put out a newsletter every Wednesday. I now have a few reporters working on solutions stories.
We zoomed past having a single minimum viable product. We have a newsletter and website that we're trying to strengthen and scale. And we have an event series with a podcast. We have ads and sponsorships and paid stories to sell.
The challenge with all this is that my attention is divided. I can't deny that. Most things take me longer to do than planned. The benefit though is that I can see the structure of my organization. Its skeleton is there. Now I need to flesh it out.
I'm hiring staff to help me do that. I have a part-time editor. My event manager started in early May. And I am looking for a revenue manager to hire. (If you know any good candidates, please send them my way!)
I have not abandoned the MVP process or the Lean Startup model. I am constantly collecting data – metrics, feedback and demographics. And I try to test my own assumptions.
This spring, students at the University of Missouri conducted audience research for Project Optimist that will impact how we do our work and how we present it to the world. This opportunity was an easy "yes" for me.
It's possible that I have said "yes" too many times on my startup journey. But doing this work has made me more magnetic than ever before.
So when professional opportunities arise, I have learned to ask myself:
Do I have time?
Will it help Project Optimist develop revenue streams or audience or advance our mission?
If the answer to either question is "no," then my answer is "no."
If the answers are "yes" however, then I'm likely to say, "Yes, and…"
Comments