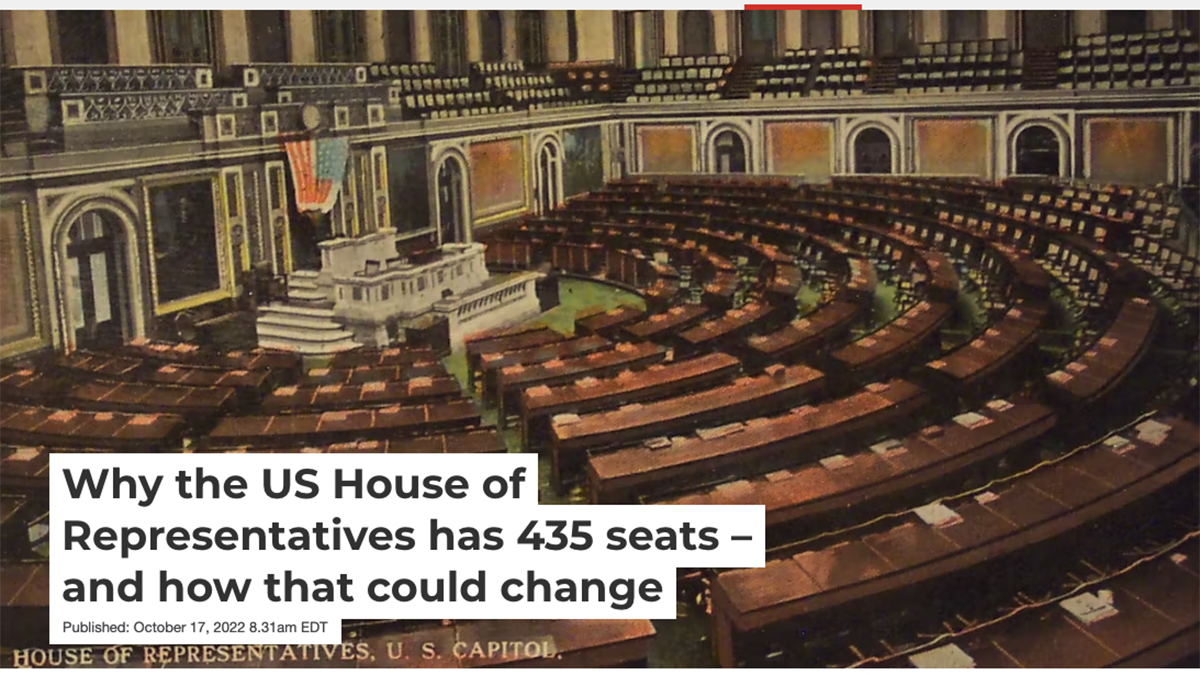 Why you should care about your news site's SEO
Common challenges, core basics and practical first steps
If your organization is trying to overcome obstacles to achieve more success in SEO, you are not alone. For my RJI Fellowship project, following the first article I was able to talk with at least 15 people who either specialize or work on SEO as part of their day to day work in a variety of newsrooms.
Every part of your page matters for search, when bots are crawling pages looking for relevant information to point users towards. This can include factors like headlines and paragraphs, but can also depend on how a page performs and whether a user interacts with the page.
I have found that no organization has the secret sauce when it comes to optimizing for search traffic. Most newsrooms are using a variety of strategies to optimize and build buy-in, but most organizations are staring down the same set of problems:
How do I get our journalists to care that SEO is important in their day-to-day work?
How do I get them to understand how closely it relates to producing quality journalism?
How do I get them to stick to the core basics of optimization?
How to get your newsroom to care about SEO
One of the most difficult hurdles is convincing your staff why they should care. Many of the people I talked to could recall a situation where they either walked into building an SEO team for the first time in their newsroom – to dealing with what SEO focused editors might call "problem sections" where a group may listen, but later not institute the best practices learned.
"If you're going into a community newsroom, for instance, like most of the ones that I work with here in Georgia, they don't know anything. They don't even know what SEO means," Dr. Amanda Bright, Director of the Cox Institute Journalism Innovation Lab at the University of Georgia, said. "And it sounds like a mystical unicorn in the forest that they have to somehow capture."
Many organizations are still working to get that buy-in, so teams understand how important SEO is when it comes to their news gathering efforts.
Adriana Lacy, the Digital and Audience Engagement Editor at the Nieman Foundation, said it's important how you contextualize SEO to your newsroom. "I think a lot of times it feels very abstract for people," Lacy said in her consulting work with newsrooms across the US. "Really getting them into the idea of: this is just optimizing your story."
Most of the feedback aligned around why it matters: how do you get someone whose formal training did not include this to care about SEO and what it means for them in particular.
When anyone on an iPhone opens Safari and types in something they are looking for, it performs a Google search. As the New York Times and others have reported, Google pays billions of dollars to Apple to make sure your search defaults to go to Google and nowhere else.
Ryan Kellett, the VP of Audience at Axios, said he wants people to view search from their own lens. "I really encourage people to take a step back and imagine themselves on the other side of the Google search," Kellett said. "I think that very few people connect their own Google habits."
Millions of searches are performed every minute. So the main question is how do you connect what you're writing to how people are searching.
Improving SEO will get more users to your news content. If you optimize your headlines, descriptions and make sure you follow best practices, that in doing so you may earn more readers.
"I want everyone in our newsrooms from leadership to our reporters to say, search is our most critical platform to grow," Katie Vogel, Hearst director of SEO strategy, said. "It is where people go for trusted answers to their questions."
Jess Marmor Shaw, Newsroom Director of Audience for the San Francisco Chronicle, agrees with Vogel's statement that good search is good journalism, but knows that there is more to executing that.
"Headlines are so important, and we can always be working even harder to get them right for search and the reader." Shaw said. "I know my newsroom wants to hit best SEO practices; I also know they may need audience team support to do that in real time, while also writing something engaging. And that's what audience editors are there to do is provide that support. "
A practical first step
Most, when asked, said the best thing a journalist can do right now is focus on optimizing their headline as a practical first step.
"This is the single most important thing you can do to make sure that your work is read," Joel Abrams, Director of Digital Strategy and Outreach at The Conversation U.S., said regarding writing a headline. "You're putting a lot of work into creating this article, and if it has a bad headline on it, almost nobody is going to read it."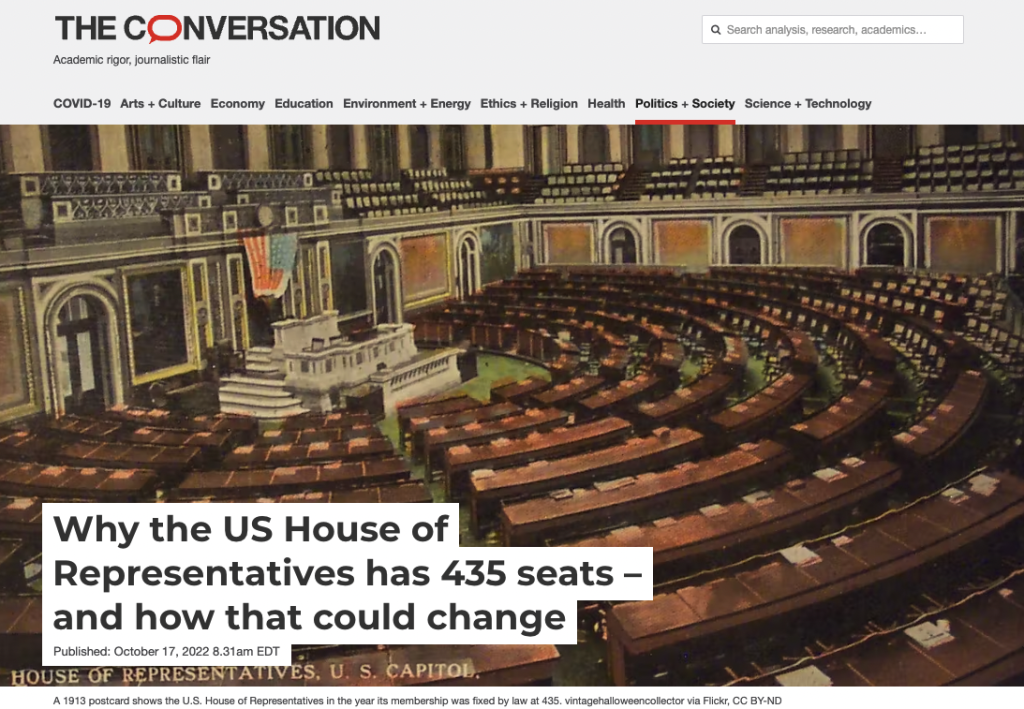 "For the SEO headline, I need it to be very clear and distinct and tell us what's happening and who's involved and where it's happening," Vanita Prasad, Reader revenue and engagement manager at Newsroom NZ, said.
"Headlines, like SEO heads in particular, [are] probably the thing that a journalist has the most control over and can make an impact," Kellett said.
The hidden factor
The most important thing to take away from all this SEO advice is, you can follow every piece of advice and you still might fall short of where you want to be. It is hard to outright declare you will find a way to grow SEO traffic by 30%. You could follow every rule and still may not 'win'.
"That's the hardest part for everyone is there's rarely a black and white, yes or no, this is specifically what's wrong with your SEO," Lauren Walck Executive Editor of the Bradenton Herald said.
Optimizing for SEO is helping search engines understand your content better, but users still need to decide that your story is what they want.
"Even if we were ranked number one, we might not still get that click," Shaw said. "The way that you rank is with the keywords and the way that you get the click is with a slightly unique engaging headline."
Even the best newsrooms need to continue to build their search instincts, the type of muscle memory that gets them writing better keywords in headlines and descriptions. After all, most users who come from a search may only see your title, description and website before they make a decision on what to click.
You search Houston Chronicle and you will get plenty of data from that Hearst paper's website, especially in the News tab, but searching Astros will bring more competitive results.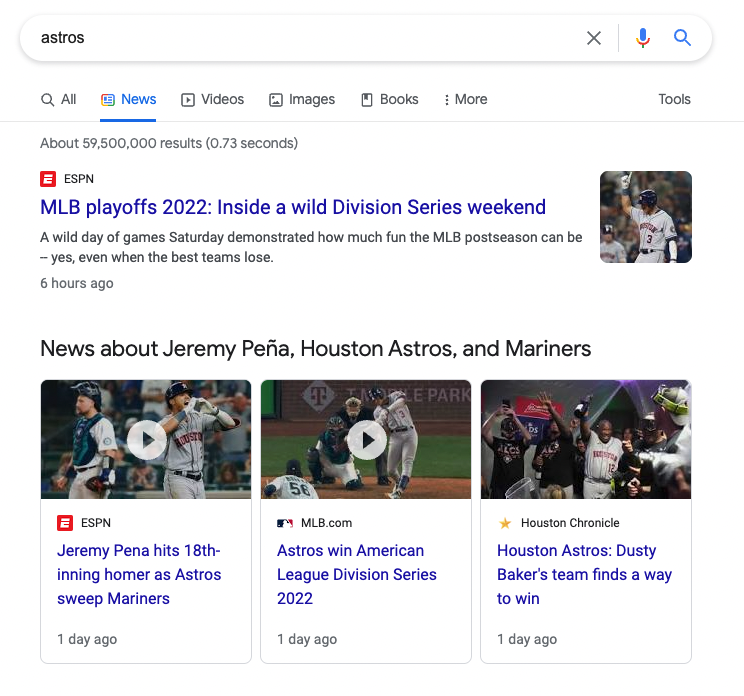 A search for "Astros" on October 17 on Google and its top results, where the Houston Chronicle ranks behind ESPN and MLB.com
That ambiguity could be tough to take, but in the end optimizing for search is similar to how developers optimize for better user experience on news publishers' websites. Google may judge what ranks the best, but users judge when they click on whether or not the headline met their needs.
Next steps — building more data from the industry!
In starting this project I have interviewed over 15 different people specializing in SEO in their news organizations, whether they are small publications, parts of larger media conglomerates like Hearst or McClatchy or even larger corporate newsrooms like Conde Nast or Axios. The community has been very helpful in informing my research on how and what problems to tackle.
If you don't feel heard yet, now is the time to get involved. My next step will be to take these and more qualitative data points and test assumptions in a quantitative fashion with a survey. If you want to make your voice heard, please take it here.
Comments