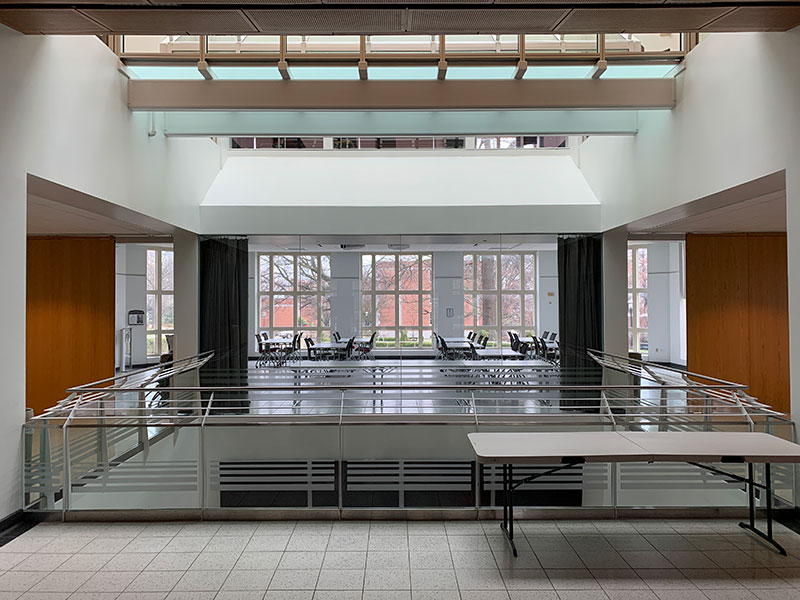 Year in review: How RJI continues to work with, and for, journalists
Eight ways RJI helped newsrooms like yours in 2020
It doesn't happen every year, but when the unexpected discovery becomes a bit of a trend at the Donald W. Reynolds Journalism Institute, it's a good year. And that it happened in 2020, which, for the most part, has been a tough year, is especially good.
The unexpected discovery for several RJI projects this year involved the pervasiveness of systemic racism.
Melba Newsome, one of our seven fellows in 2020, worked on a project that sought to address the subject by helping newsrooms figure out how to find and quote diverse sources for their reporting. But three unrelated fellowships came upon the issue as they developed their projects:
Meanwhile, another project that RJI launched with Local Voices Network focuses on bringing economic development and business folks together with news organizations to start forging a more sustainable post-pandemic climate for both sides started scratching the surface about how the coverage of underrepresented communities was a big impediment that needed to be addressed.
Lots to think about and we're looking forward to following these projects as they continue to explore their topics.
Meanwhile, in other developments at RJI, our top eight ways we helped newsrooms like yours in 2020.
1. Helping journalists stay safe. In partnership with the Coalition for Women in Journalism, we launched JSafe, a new app built to help female journalists fight against harassment, bullying and assault. The app is available in the Apple Store and Google Play Store.
We also collaborated with Electronic Frontier Foundation to provide journalists with the tools and resources they need to educate the public about data privacy in a way they'll understand. EFF is a 30-year-old nonprofit that defends digital privacy, free speech and innovation.
2. Pairing seasoned journalists with students to tackle newsroom challenges. We launched eight savvy young journalists from the Missouri School of Journalism into newsrooms as part of the Potter Digital Ambassador program for a week in January. They were tasked with helping upgrade tools and strategies to maximize the local news organizations' multimedia and social media presences.
"An outside set of eyes coming in and looking at what we've been doing made a difference for us," says Trevor Vernon, Eldon Advertiser publisher.
Because we wanted to help make sure that innovation and new ideas kept moving forward despite COVID-19, we sent a handful of RJI Student Innovation Fellows to various newsrooms to help them with utilizing Instagram and improving newsletter products.
Here are a few insights they shared from their fellowships to help other newsrooms:
Finally, as part of the RJI Student Innovation Competition, we invited college journalism students from around the country to partner with local newsrooms on engagement projects to help the newsroom reconnect with audiences in a season of isolation. We ended up with 10 teams from across the country from schools including the Missouri School of Journalism, New York University and Washington State University.
How can young journalists help your local newsroom in 2021? Let us know, and we'll try to connect you with one of our programs or initiatives.
3. Sharing information on various technologies to see if it's something you'd like to try. We know your time and resources are limited, so we tested out multiple platforms and technologies we thought your newsroom might want to consider using to reach your audiences better and enhance your storytelling. Innovation in Focus highlighted the following technologies and storytelling methods this year with tips and tricks, Q&As and other content:
What kind of technology do you need us to help you with? Let us know in the comment bar below.
4. Supporting visual journalists. Drones can be a great way to capture aerial video and photos that another piece of camera equipment can't reach. We continued to help visual journalists celebrate victories for using drones including Amazon receiving permission to operate as an air carrier with a fleet of drone delivery vehicles. We also shed light on legislation/FAA rules and taught about photo opportunities that came up during COVID-19. We also shared insights for using drones in advertising.
5. Helping navigate COVID-19. It was hard to prepare for covering a pandemic or knowing how to transition from being in an office to working from home. But we took what we learned from our family here at RJI and the Missouri School of Journalism, as well as our expansive industry network and friends, and shared it to help you in the best way we knew how. Here are a few of the top posts:
We also gathered resources from around the web to help make resources available in one spot.
We don't know when life will get back to "normal" or if it will continue to be a "new normal," but we'll be with you with tips and insights in whatever season greets us in 2021.
6. Continued giving journalists, entrepreneurs and newsrooms the time, space and resources they needed to pursue innovative projects.
We announced our 2020-21 RJI Fellowship class in March. This year's projects address the increasing challenges in covering climate change, unpublishing, harassment of marginalized journalists and more.
7. Helping with coding projects.
In 2020, RJI teamed up with the Voice of OC, a non-profit, local news site in Orange County, California, to automate their live election results. By integrating data from several authorities, we provided up-to-the-minute results for every kind of race.
8. Talked about ideas gaining traction in the news industry. We brought several featured columnists on board to write about emerging issues in journalism including Coindesk Executive Editor Pete Pachal, digital media consultant Yvonne Leow, who is also the founder of Bewilder, and consultant and ex-Spirited Media CEO Jim Brady. Here are a few of their posts:
What did we miss? Anything you need help with or would like to learn more about in 2021? If so, feel free to comment on this post or email RJI Director Randy Picht at pichtr@rjionline.org.
Thanks and Happy Holidays!
Comments