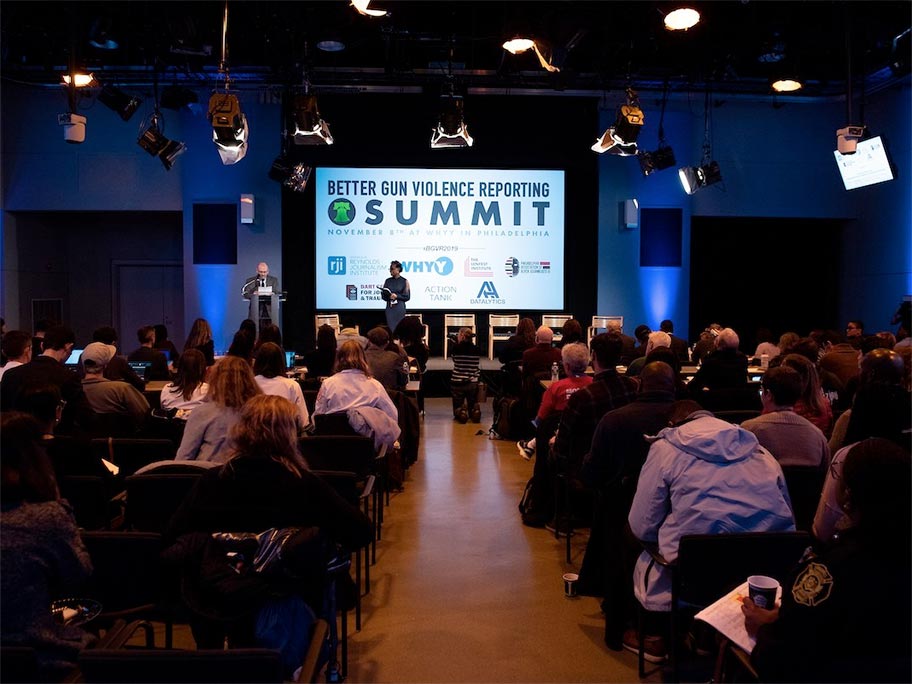 A mom complains about gun violence stories. Philly journalists respond with resources
Clockwise from top: Doctors and medical students from the Lewis Katz School of Medicine at Temple University; Akoto Ofori-Atta, Managing Editor, The Trace, New York and Abené Clayton, Reporter, The Guardian, Guns and Lies in America, Oakland; Crystal Yates, Philadelphia Fire Department assistant deputy commissioner for EMS; a journalism student from George Washington Carver High School, Philadelphia, interviewed by a reporter from Philadelphia Community Access Media; the audience for the event; Jim MacMillan, RJI fellow. All photos: Kriston Jae Bethel | The Initiative for Better Gun Violence Reporting
Michelle Kerr-Spry had a simple but powerful question to reporters: Why couldn't she find anything helpful for her in the stories on her son's death 13 years ago?
"We don't know how to live when our children have been murdered," she said. "I was literally dying."
Kerr-Spry and other moms who lost loved ones to community gun violence met with journalists, doctors, local residents and gun violence researchers who came to Philadelphia on Nov. 8 for a summit on gun violence reporting. Nearly 250 people attended.
Philadelphia journalists didn't just listen. They responded.
News website Billy Penn and NBC Philadelphia are among the outlets now linking to a list of resources in stories about gun violence.
"We decided not to delay," said Billy Penn editor Danya Henninger. "Discussion around this is important, but so is action."
I organized the Better Gun Violence Reporting Summit with goals to inform a new set of best reporting practices and start a conversation about whether changing the way journalists cover community gun violence could reduce shootings and even save lives. It's part of my fellowship at the Donald W. Reynolds Journalism Institute.
Kerr-Spry was one of several women who spoke on a panel called "Coming together: Local journalists and mothers of the fallen." The session was moderated by Dorothy Johnson-Speight, executive director of Mothers in Charge, a Philadelphia-based violence prevention, education and intervention organization.
The participants pointed out that news organizations often share resources when reporting stories about suicide, domestic assault, sexual violence and addiction.
"Why would it take six months to find out there is a group to support her through her grief and pain?" Johnson-Speight asked. "That should have been reported in the news. That should have been in the newspaper."
Within a few days of the summit, Billy Penn reporter Michaela Winberg pulled together a list of counseling agencies and other services for survivors and families, and it has already been updated several times.
Both Billy Penn and its parent organization, WHYY public media, will publish the link when reporting on community gun violence. They are also encouraging other news organizations to "pull from it as they see fit."
In addition, Resolve Philadelphia — a nonprofit local media collaborative — enhanced the list, producing a spreadsheet as well as printer-friendly version, to help those in need "take action or find comfort." They also included a form to submit additional resources.
"Resolve decided to jump on this because it clearly fit into our mission to provide shareable resources and tools for our partners in the reporting collaborative," according to Resolve Data and Impact Editor Julie Christie. "This was also something we saw as an easily scalable project that could apply and be helpful to folks across the country," Christie said.
Then, on Sunday morning, following a brutal outbreak of overnight shooting incidents, NBC Philadelphia announced in a tweet that a resource list was linked in its report.
An editor at NBC Philadelphia says it's now standard practice to include the resources for digital stories about Philadelphia shootings.
"We treat multiple gunshot victims every night and we know that they are going to need a great deal of help to recover," said Jessica Beard, a Temple Hospital trauma surgeon who also moderated a panel at the summit. "Helping them find available resources is one of the ways news organizations can do better."
Looking ahead, collaborators are discussing plans to meet with Mothers in Charge to get feedback on the project and exploring the possibility of adding companion resources for Spanish-language news organizations.
Randy Picht, executive director of the Reynolds Journalism Institute, said this is exactly the kind of thing the institute wants.
"It's a great example of what we hope RJI Fellowships can provide — thoughtful information that can be put into practice and make a difference for journalism and society."
Comments