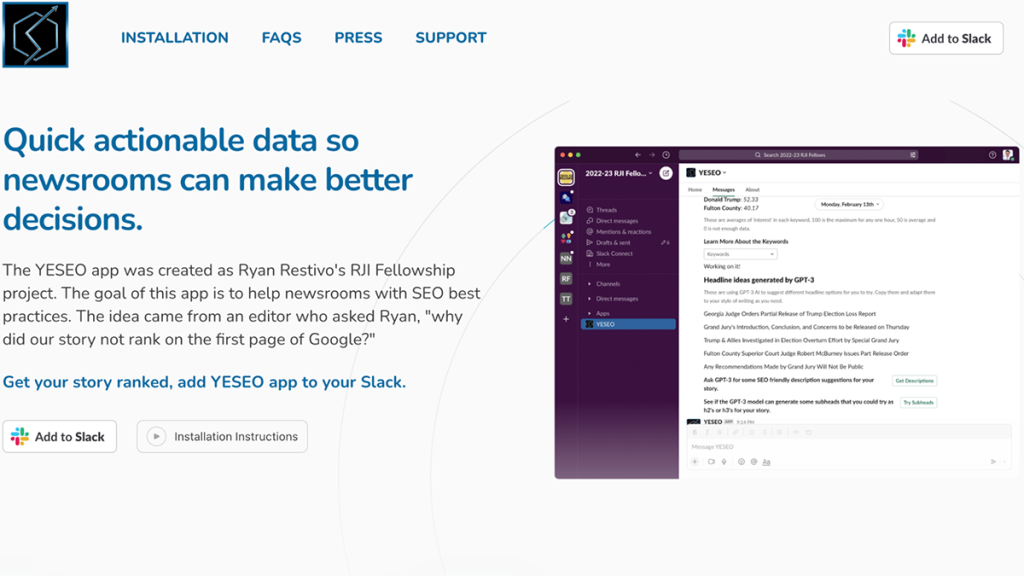 Introducing the YESEO app
The Slack app is free to use and is installable in any workspace
Starting today you can install the YESEO app into your Slack.
Thanks to the Reynolds Journalism Institute fellowship program, the YESEO app will help newsrooms better apply SEO best practices. RJI focuses on building free, accessible tools to newsrooms and this product is no different: you can install the YESEO app by clicking on the "Add to Slack" button below and it will take you through the installation workflow. Admins and Owners of Slack workspace should have no problem installing the YESEO app.

The YESEO app includes the ability to analyze published stories as well as unpublished stories. It also features GPT-3 generated data for use in your workflows and supports four different languages.
This Slack app seeks to tackle the search problem head on of what journalists can impact, starting with the headline, focusing on the keywords in a story and uses the GPT-3 language models to generate suggestions that you can reformat to your own publications' style.
Focus on the headline
Many people in my research talked about the headline and how important it is. It is many things: it is "the single most important thing" a reporter or editor can impact and it is also a place where you want to be unique. Headlines themselves don't lead to clicks, interesting headlines on the results page earn clicks through to learn more.
It is something where the journalist has the most control. So the YESEO app helps users understand their stories and relate them back to their headlines and this is where the /analyze command comes in.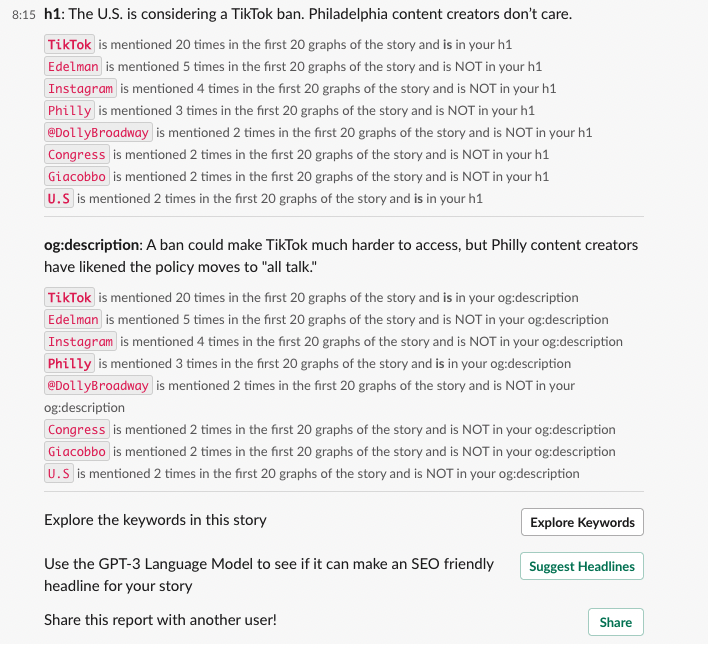 How it does this is by testing the content. How loosely or strongly related to your story is your headline? It looks for all of the important keyword entities in your story, sees how often they are used in the story and relays whether they are in your headline or description.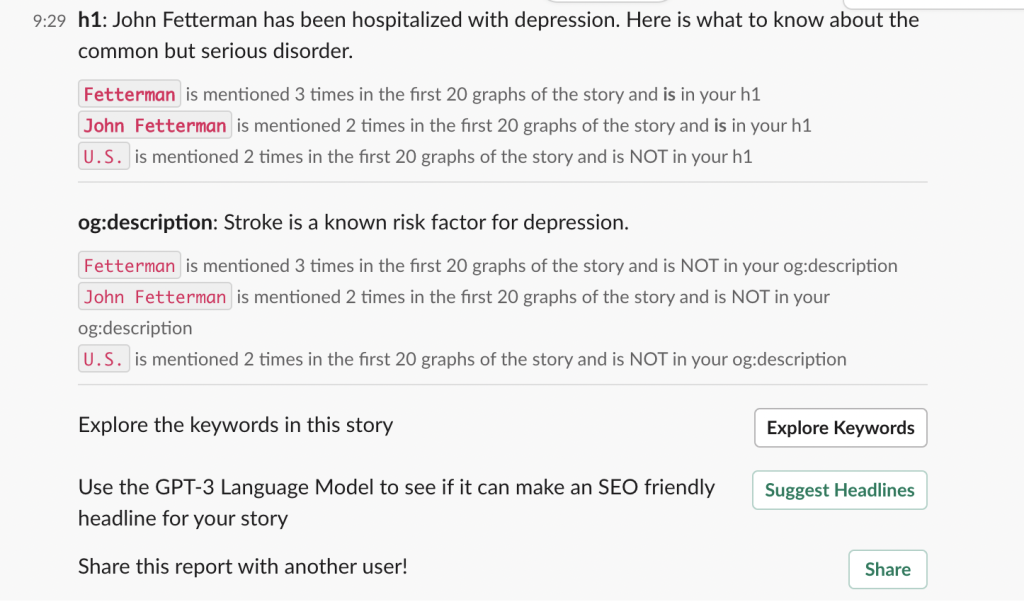 These keywords are then extracted and trends data is pulled for the keyword based on timeframes and geographic locations (cities, countries, states) of the users' choosing. By putting place at the center of the trends, users can get better data.
This means you could get keyword research into a story about Pennsylvania Senator John Fetterman in the Philadelphia market, if you were, say, the Philadelphia Inquirer just as strongly as you could get trends breaking down the keyword Tigers in Columbia, Missouri.
You can then easily judge what related queries correlate highest to the keyword as well as get what queries are on the rise in the market related to the keyword at that snapshot in time. This can help you target the right keywords for your local area.
Inputs in the YESEO app for market level data include, US designated market areas (DMA), US States, as well as all countries and regions within countries. You can get United States trends for a story just as easily as you can get trends for the Quebec province in Canada.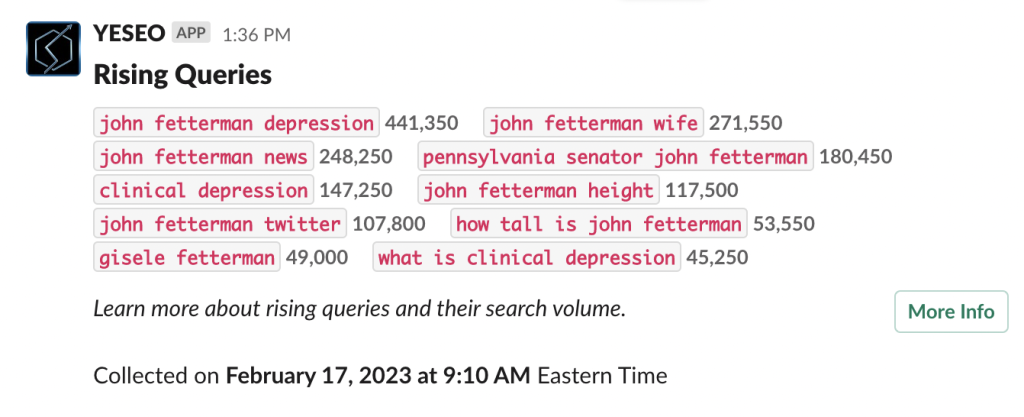 Get it right before you publish
Many people suggested to me to think about: what if I could get the keywords and insights before I publish?!
In early conversations during my project it was emphasized, how can we get things right the first time when we publish. Similarly when I showed prototypes of the first command /analyze working, I always got back, "yes, but can you do it for a story not out yet?!". So the idea of /prep centers on that before publishing, entering your story text, and getting back keywords as well as recommendations.
Since the service exists in Slack, you only need Slack to use it. It is easy to copy and paste your text into the box and the app does the rest.

The app looks for what keywords are in your story and how often you use them, thinking that the more that you use certain words, the more likely it is important to your story. It also looks to generate ideas for you using GPT-3 for headlines, descriptions and subheads. So if you are preparing a story and need to understand how it might hit the current trends in your area, you can try it in the YESEO app.
GPT-3 Integration
One of the most recent phenomena has been GPT-3 and OpenAI and what opportunities artificial intelligence could offer to the work journalists do on a day to day basis. The YESEO app allows users to run their already published stories or their unpublished stories through GPT-3 prompts to generate a diverse set of SEO friendly headlines, descriptions or even subheads to choose from.
For example when asking GPT-3 for headlines and descriptions for this story in the Philadelphia Inquirer, Howie Roseman finally rips Carson Wentz as Eagles prepare for the Super Bowl, these are the results.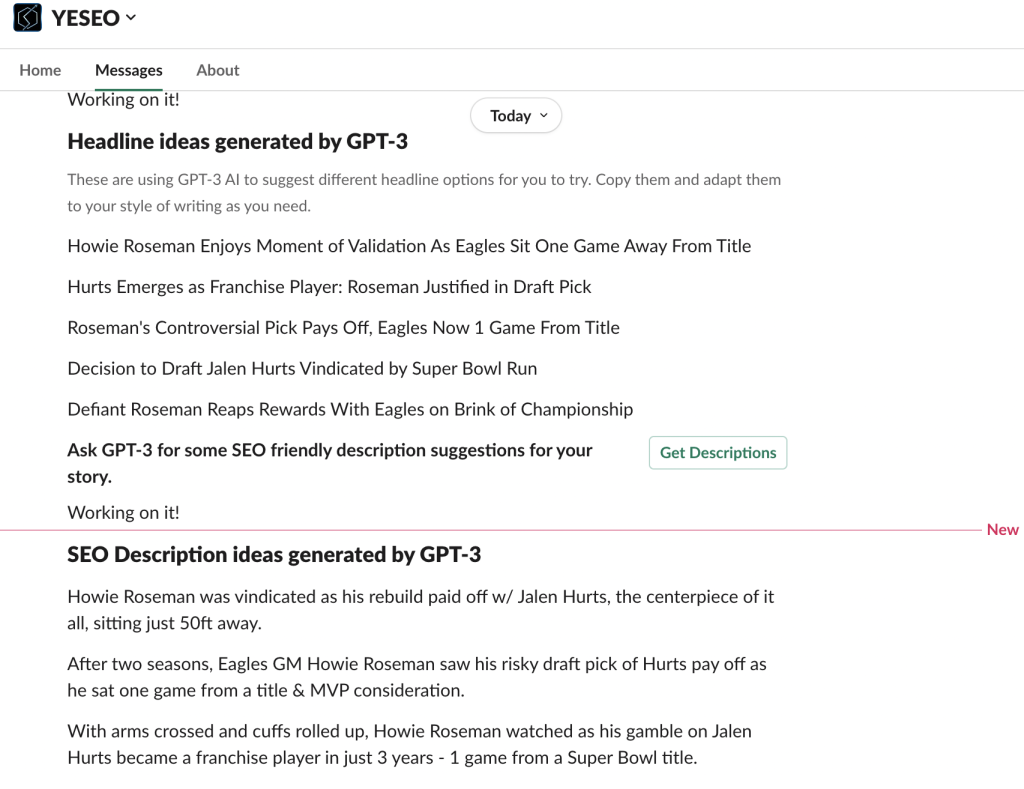 Tools like GPT-3 can help users do their jobs and with these prompts, the YESEO app is giving opportunities to reporters and editors to take a fresh look at their stories, get new ideas and act on them quickly.
I have capped the usage of this feature and will monitor if prompts exceed that number. I will be continuing to test these prompts and outputs, but users should expect when they install the YESEO app that it will generate SEO friendly headline ideas.
It will be up to you how useful they could be or if the idea is good enough that you can change it to better fit your site's style and try it on a story.
Share in any part of your workspace
One of the biggest pieces of feedback I got in the testing process was direct messages are great, but what if I want to share this report I just ran to a colleague?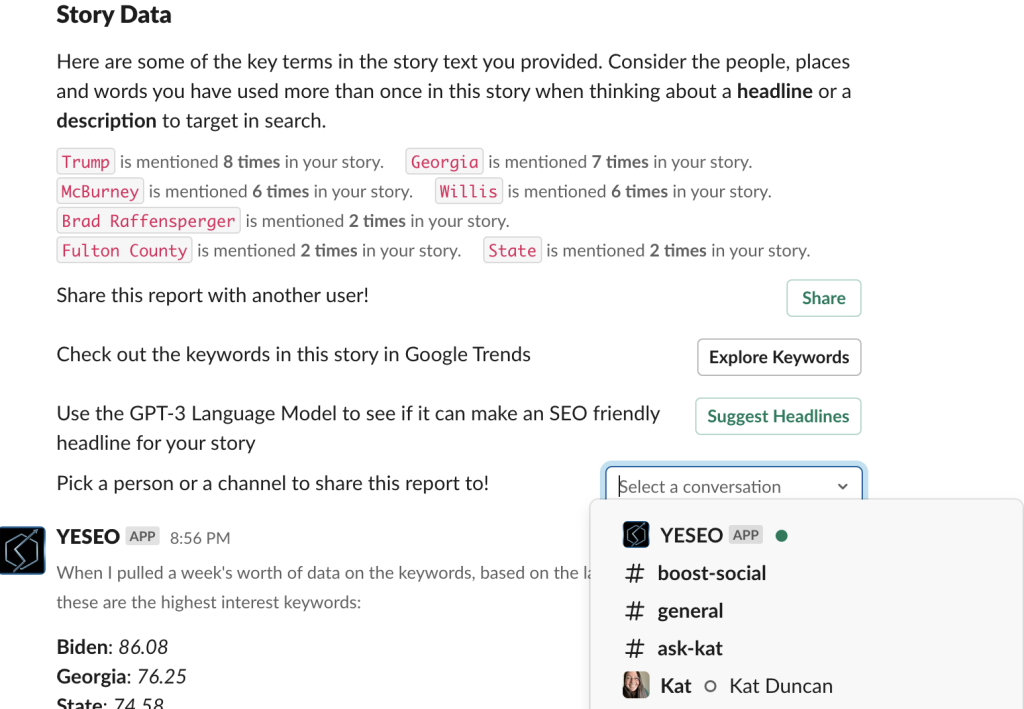 All you have to do now is hit the Share button and a dropdown will show up and allow you to send the report to any other user, group of users, public or private channel.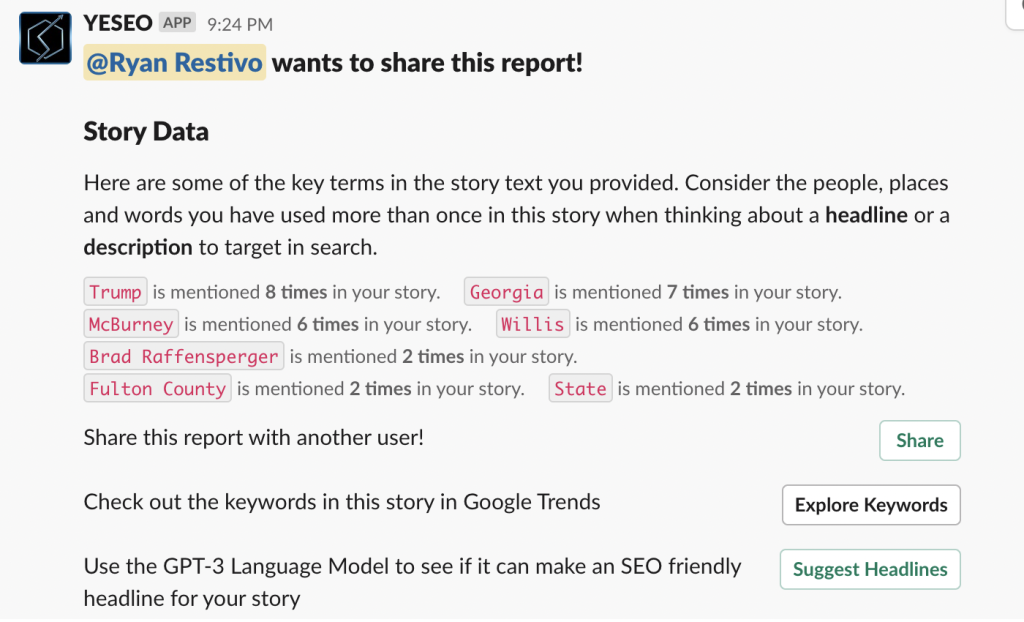 Supports four different language models
More recently, I updated the natural language processing service to use four different language models: English, Spanish, French and Portuguese.
When you enter a link with /analyze or story text with /prep, the app will detect what language the text is in and apply the proper model to the data. All of the user experience documentation is written in English, but the language models of the app will run accordingly based on what the language of the story text is.

You can find more information on the YESEO app home page, which will offer documentation as well as timely updates from the app on the latest changes and features.
Just the beginning
I have built tools that have helped one newsroom do particular jobs better, but this project pushed me to learn how to build an app that can be used by any news outlet or journalist.
The goal of this project and RJI's goal to build distributable products that newsrooms can use met the challenge I wanted of building an app that newsrooms can learn from.
I hope that this is a first step into a larger journey. I am looking to experiment further and build even more exciting features into this app, starting with improving GPT-3 prompts for users when they ask for headline suggestions. There is more on the way.
If you want to learn about the YESEO app, you can visit the YESEO app website or reach out to support@yeseo.app with any questions or inquire about future developments.
Join us for the RJI 2022 Fellows Presentation on March 16. Each resource will be demonstrated by the fellow who created it and there will be an opportunity to ask the fellows questions about the toolkits, guides and tools built during their RJI Fellowship.
Comments