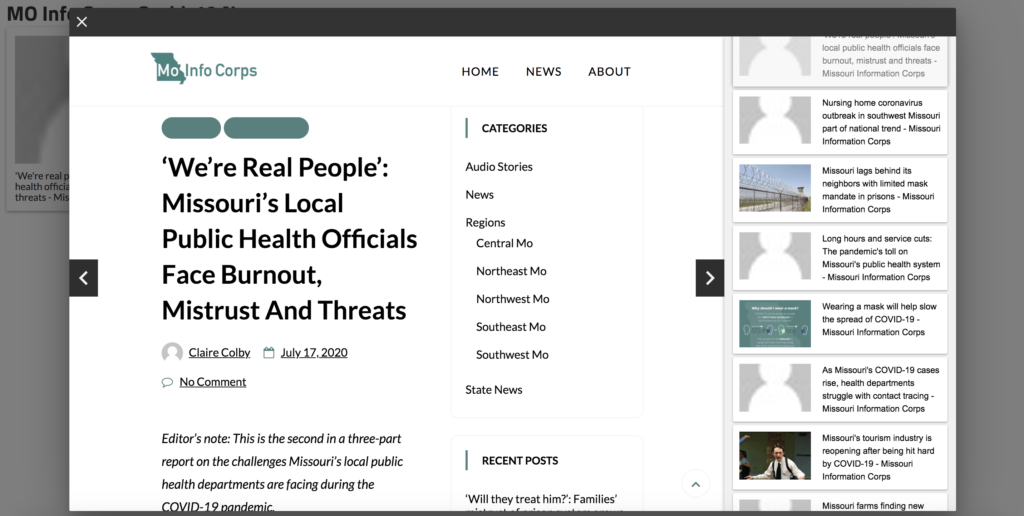 The Missouri Info Corps COVID-19 widget
What is the COVID-19 widget? And why should I want it on my news site?
This widget is a free and easy way for your news organization to display Missouri Info Corps COVID-19 stories on your news site. If your news organization has taken a hit in resources and reporters over the past few months, this content can help add regular new stories about people and communities in Missouri that have been affected by COVID-19.
How does it update? Is it automatic?
The widget is a one time embed. It will update it's stories daily based on content coming from the Missouri Info Corps reporters.
Who can use the widget?
Any news organization can request the code and put the widget onto their website.
What does it cost?
It's free!
Where do I get the embed code?
To get the embed code please e-mail: lauramwidget@gmail.com
I don't really know how to embed the code into my CMS, is there technical help?
Absolutely. Just e-mail lauramwidget@gmail.com and we'll work with you and your CMS step-by-step to get the widget loaded onto your site.
What if I want to feature one of the stories that's on the widget as an article on our news site?
If you would like to display one of our stories in a more prominent position on your site, you may simply copy and paste the story into your CMS (like you would do with other wire news).
Can I customize it?
Not at this time. Right now any new stories from the Missouri Info Corps will be automatically added to the widget so you'll see the latest four stories displayed, but the Missouri Info Corps website has all of the current stories in case you want to continue reading.
What happens if I try it and don't like it?
Not a problem. You can just remove the code from your CMS and you'll no longer see the widget on your site.
Comments