What can grow in the desert?
Every fall, a group of industry professionals and distance-learning master's degree students gather at the world's oldest Journalism School for Pro-Seminar, a wide-ranging discussion about the present and future challenges for the news industry. Topics have ranged from the latest professional applications for artificial intelligence to leveraging 5G in digital storytelling. This year, the topic was news deserts and the many impacts they have across the globe. This entry comes from one professional, Celia Wu, current managing director with Global Press News Services.
We are awash with studies and white papers about the demise of local newsrooms as a threat to our democracy. But what if, instead of asking what we've lost, we ask what can actually grow in these deserts?
It's long been established that there is a dire need for local news — local communities certainly don't lack for events and issues to cover, nor do communities lack readers seeking information to lead their best lives.
It's not just local communities that suffer. According to Penny Abernathy's The State of Local News 2022 Report, "as much as 85% of the news eventually picked up by national news organizations originates with local and state newspapers." It was local journalists, for instance, who proved that the story of a 10-year-old rape victim who was forced to travel for an abortion was not a hoax.
Given how important local news is, why are we failing at it? There's certainly the market need. "It's because journalists need to think about sustainability holistically," says Anika Anand, deputy director of LION Publishers. "Newsrooms need to be operationally resilient, need a base of financial health and need to measure the impact of their journalism. And it all starts with having a clear mission statement that resonates with funders, supporters and your readers."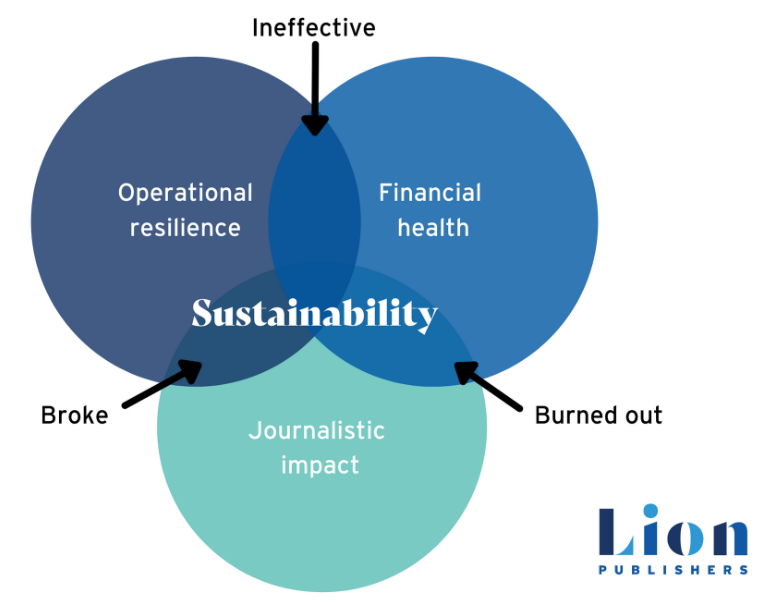 At a recent session of the Graduate Professional Seminar at the Missouri School of Journalism, students — most of them working journalists in local newsrooms — were acutely aware of the issues confronting our field. Yet they decided to make a commitment to this field in pursuing their master's degrees. How can we apply our real life work experience and J-school lessons to address the most urgent issues facing our field? How do we solve the problems confronting local journalism?
"Everything has changed since we first started in this industry," responded Jon LeSage, a student in the class. "Gone are the classifieds, the print circulars — the revenue we relied on from local advertisers and subscriptions. To start a local newsroom today, we just can't just build it and hope they (readers) will come."
After a lot of discussion and student observations on local news deserts, the class came to the same conclusion: To survive, our field needs to innovate.
And that is exactly what some RJI Fellows are doing. In the last two years of RJI Fellowships, over half went to fellows focused on local news innovation.
Max Siegelbaum, a co-founder of Documented, was a 2020-21 RJI Fellow. Documented has a focused mission and a focused audience. From its masthead, Documented is "New York's go-to source for immigration news." Documented found an innovative way to deliver news to its target audience, via a WhatsApp channel in Spanish.
Other RJI Fellows are building a fundraising toolkit for local newsrooms, a succession planning guide for local nonprofits, an open-source tracker pairing city data with crowdsourced tips, a playbook for retaining journalists of color in local news, and a platform for visual journalists to license their content to local newsrooms — among many other innovative initiatives.
All this activity is in the midst of a resurgence in local news startups. According to the Project Oasis Research Report, "the field is experiencing tremendous growth. … 226 organizations started up in the past five years, an increase of nearly 50%" over previous years.
So, what can grow in the desert? Local news can grow and flourish, but it needs a clear focus and mission, a successful way of engaging your target audience and a sound operational plan.
"The class concluded that we just can't keep on doing the same things over and over again," says Jim Flink, associate professor at the School of Journalism and convenor of the Graduate Professional Seminar. "Local news, in order to survive, needs to innovate."
Celia Wu is the managing director of Global Press News Services, a social enterprise offering DEI and holistic safety tools to newsrooms across the world.
Comments