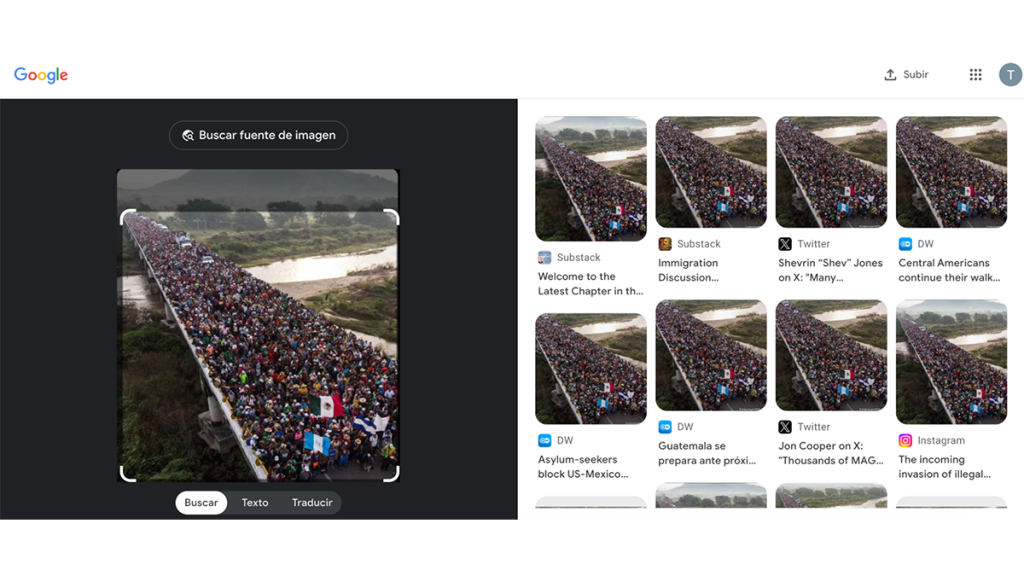 The importance of using reverse image search tools to effectively combat misinformation, especially on sensitive topics
How to use these tools to detect fake or out-of-context images
With sensitive topics such as the war between Hamas and Israel or events related to migration, we see the proliferation of various images. These images are shared on social media and can even make their way to news websites and media outlets without undergoing even the most basic fact-checking regarding their content and context.
It is crucial for journalists to be proficient in simple image verification techniques using available tools on their computers or mobile phones. These tools enable quick and effective verification and responses to the circulation of images that aren't taken by professional journalists.
During the conflict between Hamas and Israel that began on October 7, 2023, impactful images have been circulating, evoking emotions and a desire to share them on social media and messaging apps, such as WhatsApp, which is widely used by the Latino population. People may share these images to express support for one side or to shed light on what they believe is a just cause.
Tools like Google, Yandex, or Bing, among others, prove highly valuable because they allow users to capture the circulating image and then upload it to the tool to retrieve essential information. From there, users can obtain data regarding the origin of the photo, where the image has been previously shared, dates, locations, and other context. These tools also help identify if the image's author is a recognized photojournalist, an official source, or if the image has already been debunked by fact-checking organizations.
For instance, at Factchequeado we observed several images associated with the Middle East conflict circulating. However, thanks to these tools, we were able to determine whether they were taken from video games or originated from a different conflict or different dates.
Examples of misinformation in images
This image that went viral on social media as associated with the attacks between Hamas and Israel in October 2023 is not related to a supposed live broadcast of the execution of 78 Israeli homosexuals by Hamas. How did we find out?
The first step was to capture the viral image and upload it by clicking on Google Images icon
to the right of the image we were verifying. It yielded these results, which, in turn, allowed us to identify the origin and context of the photo: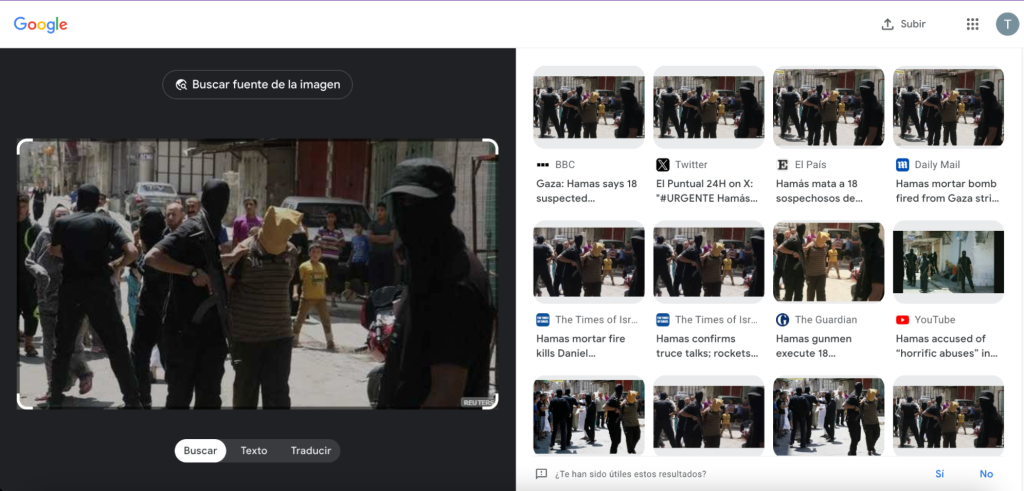 Through this Google Lens reverse search, we found that the photograph shared in the tweet was taken by the Reuters agency on August 22, 2014, and was published in various media outlets such as Al Jazeera, The Guardian, and BBC News. It depicts armed members of Hamas just before executing "18 Palestinians who were accused of collaborating with Israel." There is no reference to sexual orientation, and this incident occurred 9 years before the current attacks between Hamas and Israel.
Manipulated flags and symbols
This image circulating on X (formerly Twitter) showed the Israel Defense Forces (IDF) holding both an Israeli flag and another flag with a Nazi symbol. However, a reverse image search on Google confirms that: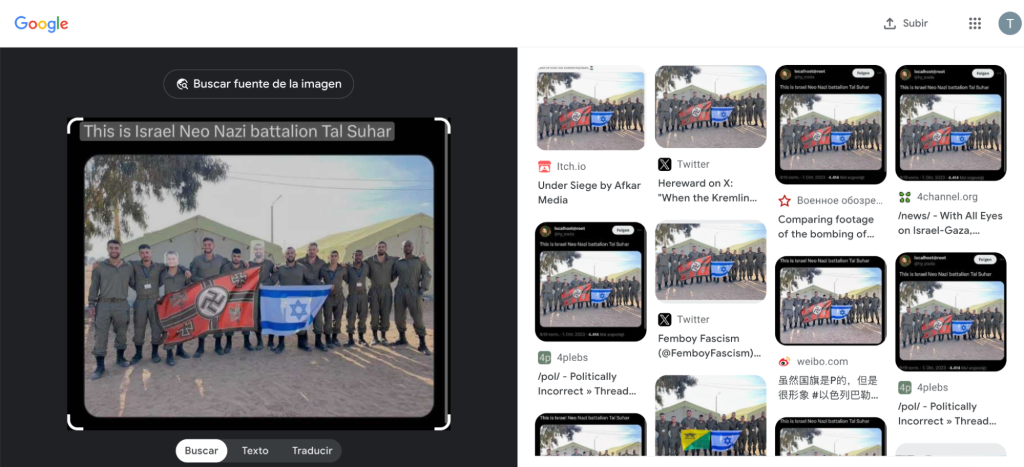 Yandex, the Russian search engine that is used to verify facts in other latitudes
A video was circulated on social media purportedly showing Hamas members burning 2 Israeli soldiers alive.
Through a reverse image search on the Russian search engine Yandex, we found that the video was disseminated by the terrorist group ISIS in December 2016 and involved 2 Turkish soldiers who (according to the terrorist group) were captured and burned alive. (We warn that the images in the links are sensitive and therefore refrain from posting the screenshot.)
Striking videos of bombings, lights, and explosions have flooded social media during the Hamas-Israel war. However, we have identified certain military simulations circulating as real, such as Arma 3.
"Hamas military initiates a new aerial assault on Israel," was claimed in a video on social media, suggesting a new Hamas attack on Israel on October 8, 2023.
In the case of videos, you can take multiple screenshots for comparison. The images can be uploaded using the reverse image search icon in the Russian search engine Yandex.
The results indicate that these images are from a YouTube video of a military simulation called Arma 3. It was posted on February 21, 2022, by a YouTube user who has other videos of this kind on their account.
On migration topics
Another sensitive issue that often generates a large number of images shared as if they were current or manipulated to influence public opinion is related to migration to the United States.
In July 2022, an image circulated of a crocodile carrying a woman in its jaws in a river. On social media and news websites, the video was linked to a migrant crossing the Darien jungle in an attempt to reach the United States. The Darien is the 575,000-hectare region that separates Colombia from Panama, and hundreds of thousands of migrants are using it as part of their journey from Latin America and the Caribbean to the United States.
But the results from the reverse image search revealed that a woman who was washing clothes was "devoured by a crocodile" in Tamaulipas, Mexico, in 2021.
In other words, it was false that the image was related to an incident involving a migrant crossing the Darien Jungle, as claimed in July 2022.
Another example of how a reverse search helped us
At Factchequeado, we detected videos of migrants from months or even years prior (and from different countries) circulating on social media before May 11, 2023, the date when Title 42, the policy implemented during the COVID-19 pandemic allowing the immediate expulsion of migrants crossing the southern border into the United States without allowing them to apply for asylum, was lifted.
A photo was posted on Twitter showing a bridge filled with people with the message: "These invaders will enter our country this week. We are no longer a nation. Prepare as appropriate," followed by a tweet that says "restore Title 42!". However, the image was from a migrant caravan in southern Mexico in October 2018, before the implementation of Title 42 in March 2020.
The 3 steps we followed to verify the image was:
1- We performed a reverse image search on Google and found that this photo had circulated in the media in October 2018.
2- We clicked on the link from DW, one of the outlets that had published the photo, and saw that it had been taken by the AFP agency in San Pedro Tapanatepec, in southern Mexico, as a migrant caravan continued its journey to the United States.
3- We accessed the AFP image gallery and searched for photos of migrant caravans taken in October 2018 near San Pedro Tapanatepec, and we found the original image taken on October 27, 2018, by photographer Guillermo Arias.
In the guide we are preparing for journalists covering Latino communities, we provide a step-by-step process for verifying an image using these tools and what kind of information they offer. This helps us in preparing our reports and explaining to the audience what the content really entails, especially when it has left a strong impression on them.
Comments