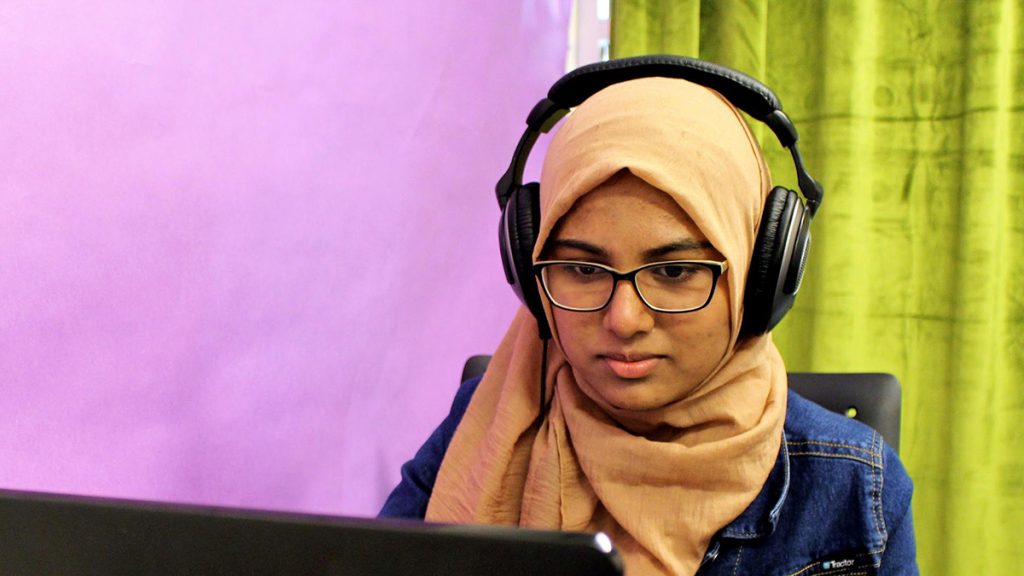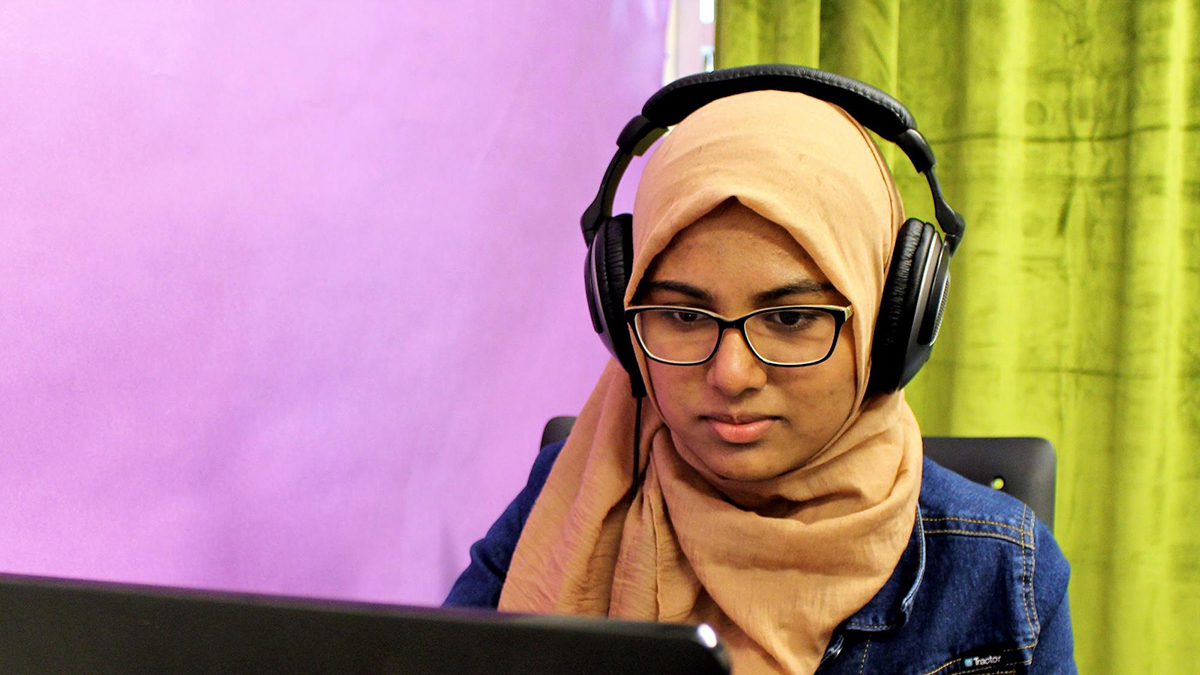 Youth radio journalism resources roundup
Starting a journalism program for teens? You don't need to create training and curriculum materials from scratch
Starting a youth radio program at your shop means managing a lot of moving pieces. You've got to find funding, staff, space and equipment. You've got to meet with youth who are interested in storytelling and amplifying teen perspectives, and see what they want to get out of a program like yours. And you've got to get your staff trained in the specifics of doing journalism safely and effectively with young folks.
But we've got good news: You don't need to make curriculum resources from scratch! Here's a roundup of some of our favorite youth radio training materials:
Step-by-step audio storytelling guides for teens
This resource list supports youth creators through podcast production, from defining what a podcast is all the way to equipment, production and mixing tips. This guide is straightforward and clear, with hyperlinks to each section making it easy for teens to see what's in the guide and to navigate.
This toolkit asks teens to determine their "podcast personality" and takes them through audio story basics including coming up with a story idea, pitching their story, using equipment, recording, interviewing and more. Unlike the NPR guide for students, most of this guide is contained on one long webpage, which may be easier for some teens to navigate.
Made for use by teens and educators, the best parts of this toolkit are the videos and the comic book! A short comic book walks teens through the process of making a radio journalism feature story from start to finish. And the animated how-to videos cover skills like vox pop recording, how to report a personal story, and how to make an audio scene. This toolkit was published in 2014, so some parts are beginning to feel dated, but it's still useful and relevant.
Self-guided audio storytelling activities for teens
Explore 12 bite-sized audio storytelling activities for teens and pre-teens. These self-directed activities take about 30 minutes to complete, and can be done in any order either alone or with a partner. Activities include "Make a Scene," "Audio Tours," and "Audio Scavenger Hunts."
Choose a creative audio assignment from the Audio Playground website (for example, "Tell a 90-second or less story in the form of a voicemail"), and if you make it, Sarah will post your audio on the website. The point isn't to make something good, but to make it (and to maybe surprise yourself in the process). Audio Playground was inspired by the Learning to Love You More project, which is also a phenomenal place for students and educators alike to find out-of-the-box mini creative activity prompts. Audio Playground isn't specifically for teens, but it's appropriate and easy for teens to navigate.
Audio journalism curriculum resources for educators
The Youth Reporting Institute Curriculum offers tips and tools to create broadcast-quality audio reporting from concept to delivery. This toolkit contains a variety of print handouts and worksheets, but the best part of the curriculum is the videos! WUNC's Kamaya Truitt-Martin walks youth through finding stories, pitching, interviewing and recording in short, clear, easy to follow, high-impact videos.
KQED for Educators is a free media literacy teaching and learning hub for educators and students. Everything in this toolkit is high-quality, polished, professional, and easy to navigate. The "KQED Learn" site includes media literacy projects and lessons for middle and high school students to develop the skills of analyzing and making media for an authentic audience. And the "KQED Teach" site offers professional development opportunities for educators, including the ability to earn a PBS Certified Media Literacy Educator certificate.
A treasure trove of 45+ print resources, including handouts, worksheets and lesson plans for youth media educators. Lesson plans cover interviewing, storytelling, and writing for radio, and the handouts and articles cover a broad range of audio journalism topics, from media literacy to audio mixing.
These easy-to-follow lesson plans walk students through the process of analyzing the techniques that make for good storytelling, interviewing and podcasting. The activities culminate in students producing their own original podcasts. The lesson plans in this mini-unit include activities and listening examples. Also included is a companion webinar for educators outlining the unit.
A big list of youth TV, film and radio resources for youth and educators from WHYY! These resources include everything from how-to presentations and videos, workshop curriculums, lesson plans, and example forms for students like media release and emergency contact forms. WHYY has been running youth programs for more than two decades, and they know how to do it well.
StoryCorps DIY is a collection of multimedia resources for anyone who wants to embed StoryCorps practices into their classrooms and communities. Resources are categorized into course modules you can access with a free registration. The "Education" module includes five easy-to-follow lesson plans on interviewing, listening, and different aspects of storytelling. Each lesson plan is mapped to applicable common core standards.
Published in 2000, this handbook is an oldie but a goodie. I suggest educators read through it and adapt it before you share it with teens (the handbook contains eight references to "cassettes"). But the golden rules of audio recording and interviewing don't really change, and this is a great read for teens (or anyone, really) who want to hone their craft.
StoryMaker is a free learning platform developed by PBS NewsHour Student Reporting Labs to build the next generation of media creators. Designed for teachers, StoryMaker has dozens of handouts, multimedia tools, videos, and lesson plans ranging from story production to media literacy to election reporting. Resources are accessed by making a free account. StoryMaker has more resources related to media literacy and journalism theory than any of the other sites. There is a ton of information in StoryMaker, which can make the site a bit difficult to navigate at times.
Resources for starting youth media programs
By/With/For Youth: Inspiring Next Gen Public Media Audiences is a research and development project designed to support the public media sector as it evolves to engage tween and teen audiences. What this project has that other how-to guides do not is extensive original research on the benefits of youth media. It's a truly incredible collection of resources, including research papers, webinars, articles, a database of American youth public media programs, and a peer learning community of youth media professionals that meets regularly.
In this beautifully designed, robust and meaningful toolkit published in 2022, WHYY distills 20 years of youth media successes and challenges into clear steps stations can take to build their own programs. The guide is extremely thorough, covering everything from staffing to community partners to types of programs to grant writing. This guide also focuses on TV in addition to radio, and is ideal for PBS or community TV stations. This is a truly wonderful guide anyone who wants to start a youth media program should read.
General audio storytelling training resources
Websites
Bookmark it! Now! NPR Training has articles, example stories, handouts and worksheets for every aspect of the audio journalism process. It's the site we use most often, along with Transom.org. It's just fabulous. Some of our most-used resources include The journey from print to radio storytelling and Trill, buzz, floss, breathe: Coach yourself to sound your best.
Like NPR Training, Transom.org is a site we visit weekly. Transom has hundreds (thousands?) of blog posts related to audio storytelling, from what gear to buy to field recording how-tos to audio storytelling manifestos from great radio makers. Your little radio-making heart will swell as soon as you visit this gorgeous toolbox of audio joy and craft. Transom also has a new newsletter called Starting Out for young radio-makers that is fantastic.
Books
A graphic narrative (!) about how to make great radio. We think it's the ideal textbook for teaching audio storytelling. It's basically a comic book that takes readers behind-the-scenes of five prominent radio shows, including This American Life and RadioLab. The book is broken into clear chapters, making it easy for educators to pull pieces from. If any book is going to be engaging for teens, it's this one. Jessica Abel also made Radio: An Illustrated Guide which was the comic book radio how-to precursor to Out on the Wire, and you can download the PDF for $3.
Eric Nuzum is a longtime leader in developing podcasts at NPR and outside of public media. In Make Noise, he distills a career in audio into this engaging and easy-to-read book. Throughout the book, he includes simple activities you can do with students or in your own podcast work (for example, have everyone on a podcast team write down, in 10 words or fewer, what the podcast is about, then compare). A great book to re-energize you and remind you of the basics of making great audio.
Reality Radio (John Biewen and Alexa Dilworth)
An oldie but goodie, this collection of essays published in 2010 features reflections on radio storytelling by well-known names like Jad Abumrad, Jay Allison, The Kitchen Sisters and Ira Glass.
The original NPR "textbook." Published in 2008, it's a classic on how to make NPR-style radio. Essential for anyone making radio for an NPR station.
Podcasts
SoundSchool (Rob Rosenthal/PRX/Transom)
Formerly "HowSound," SoundSchool breaks down how popular podcast episodes were made and reveals the secrets behind great radio storytelling. A great tool for finding examples to share with students.
Tape (Mooj Zadie and Mickey Capper)
A radio show about people who make radio. Lovely longform interviews with great radio makers about how they came to radio and how they honed their craft. Great for big time radio lovers.
Even more resources
We are excited to build upon this foundation through our guide for news radio stations to start their own youth media programs, which will be published in March 2023.
Want to be the first to hear about the guide once it launches? Want to support or contribute? Got questions? Connect with us.
Comments