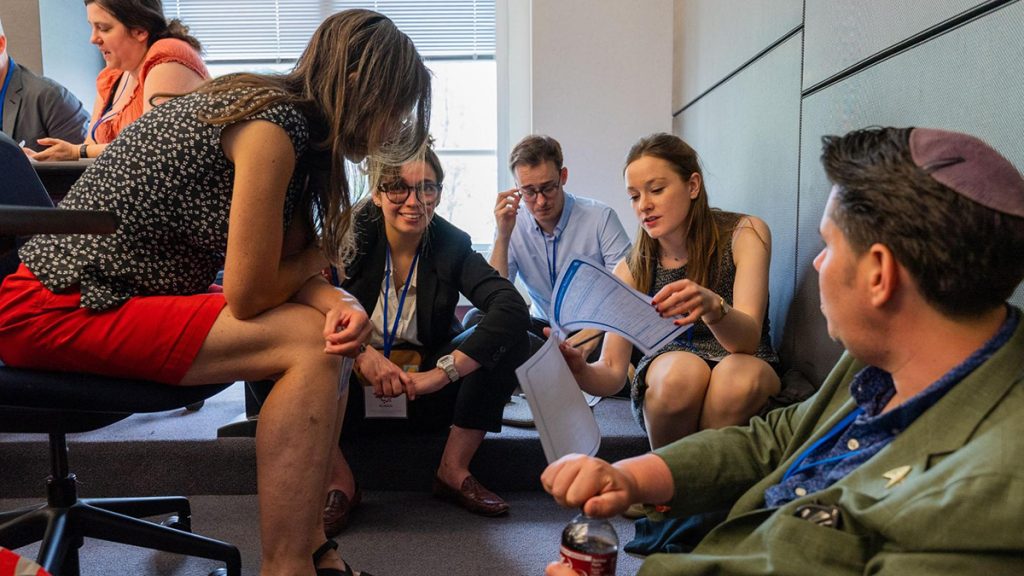 Breaking down barriers to expand impact and resources
Newsrooms identify funding and project management as top needs for successful collaborations
A few months ago, INN and RJI embarked upon this project with the idea that we could build a resource together to help newsrooms collaborate in sustainable, useful and serviceable ways. We heard from our members (INN) and partners (RJI) that collaborations are harder than they need to be, so we want to break down some of those barriers to help everyone expand their impact and resources.
121 newsrooms applied to be interviewed about collaborations, 39 of which we got to speak with directly, and the rest we surveyed through a Google form. We chose a variety of outlets across different platforms, both nonprofit and for-profit, ranging from local (44% of interviewees) to state (23%), regional (15%) and national (18%). In these interviews we discussed what collaborations mean to them, the main challenges of pursuing one and what newsrooms feel they need to make collaborations more impactful.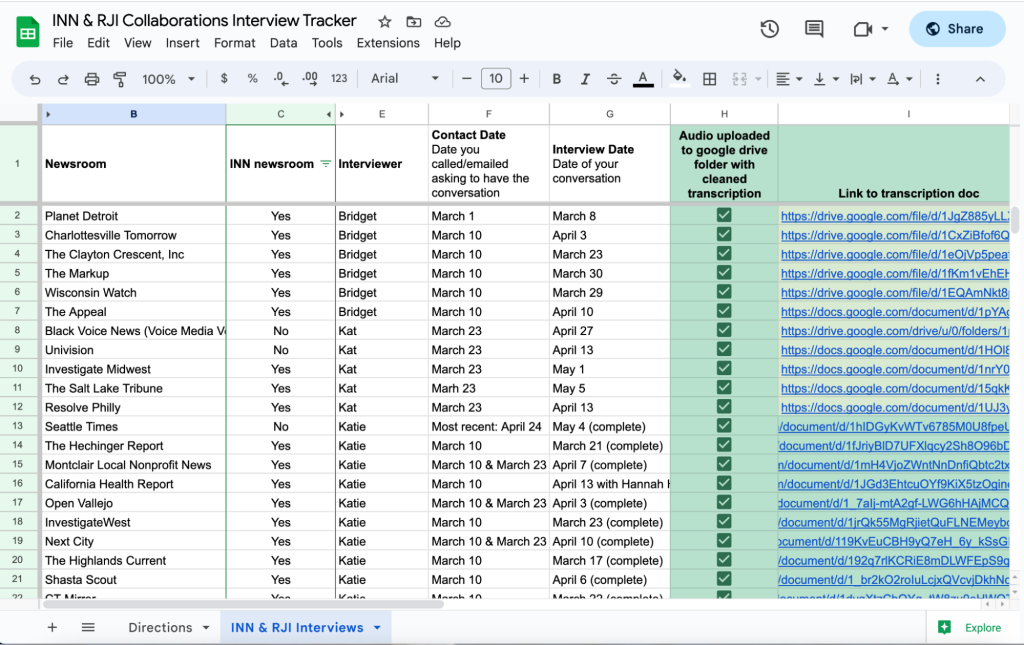 The newsrooms we spoke with identified two main challenges to successful collaborations: project management and funding.
Funding challenges identified by interviewees:
How to collectively fundraise with partners for a project
How to make a collaboration bring in sustainable funding
How to bring in funding to be able to make space to do the collaboration
Project management challenges identified by interviewees:
How to make sure your missions and values align with your collaboration partners
How to define what the collaboration is as a group from the beginning
How to navigate decisions that affect everyone involved
How to know what your deal breakers are
How to ensure collaborations serve communities
Balancing collaborations with other work
And much more.
We heard from newsrooms that collaborations are not only incredibly hard work, but are often hard work that feels added on top of their everyday grind. We heard collaborations referred to as 'dessert', nice to have but not a core part of the everyday necessities to serve their communities, and how hard it is to make this important work a part of that everyday workflow.
Dee Hall, executive editor of Wisconsin Watch, compared many co-publishing collaborations to kids playing side-by-side in a sandbox: everyone has their own toys, but no one is really sharing in a meaningful way.
"You're responsible for your photos and your story and your editing and everything, and you just let us know when it's done," Hall said. "If you want a real throughline kind of thing, where it possibly could have a lot more impact, you're going to have to have a lot more coordination. And not everybody's comfortable with that."
But we also got to hear about how excited so many newsrooms are to find new partners, to serve their communities in more impactful ways and how important engaging in collaborations is to their core values.
For example, Montclair Local News investigated the disparity between how many more white students were taking AP courses compared to the overall racial makeup of their schools.

"We probably wouldn't have even looked at that story if we hadn't been bouncing ideas around with the other people in a collaboration," said former Editor-in-Chief Carla Baranauckas. "It helps us think bigger thoughts. It helps us leverage our resources. It helps us see the bigger picture, even though we're still reporting in a hyperlocal way."
We came away from these conversations with a better idea of what we will be building to serve these needs.
There will be two main pieces to the final product:
A public repository for newsrooms to find partners who are interested in the same topics, provide complimentary skills and/or align in their mission and values.
A toolkit to help journalists and newsrooms with funding, communication and project management. This resource will include templates, scripts, checklists for prep and more.
Putting ideas into practice
We took these takeaways to the Collaborative Journalism Summit where our workshop broke attendees into groups who went through our first worksheet together. This worksheet was built with the challenges newsrooms identified for us in mind.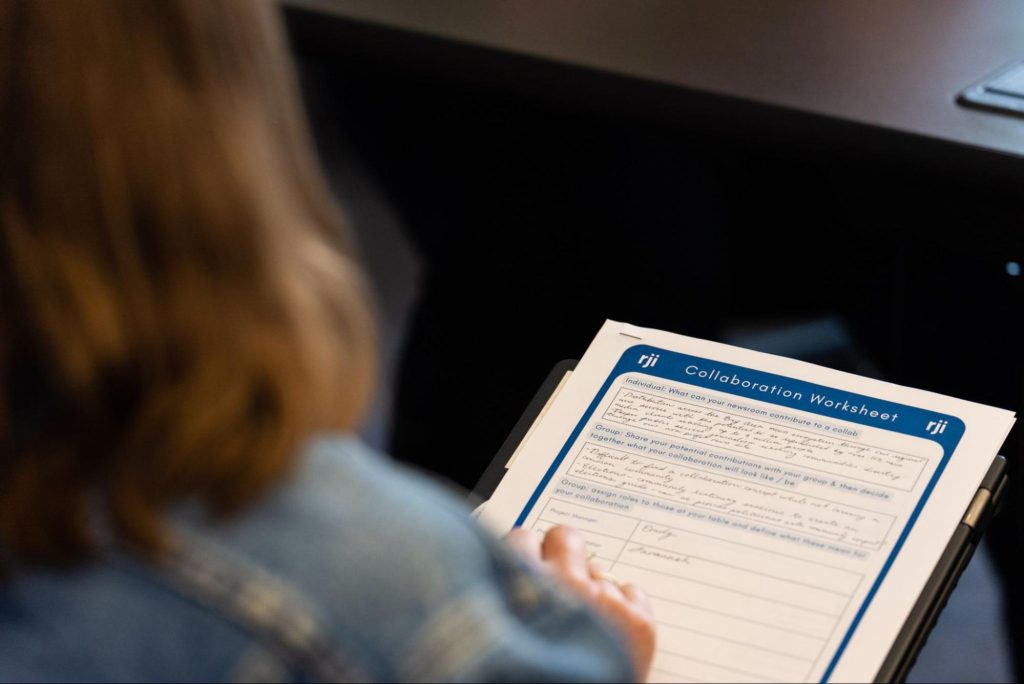 The worksheet helped each group identify what their collaboration would look like, what their individual contributions would be, what their mission and values (collectively) are and more.
Participants gave us great feedback on how this process made them have the important (and sometimes uncomfortable) conversations at the beginning, rather than mid-way through a collaborative project or only when challenges cropped up. The idea being that these conversations will lead to less hurdles later to overcome as a group, by paving a smooth path forward for everyone collectively.
Next steps
As we build out this resource, we will also be launching a pilot collaboration that will implement some of our materials and ideas over the next few months to help us identify additional needs, gaps and challenges in the collaboration process. We will choose 5 newsrooms from the 121 we connected with at the beginning of this project to work together.
If you'd like to hear more about the pilot, what we've learned so far and/or ask us questions, please join us for our Q&A on July 24 at 11 a.m. CST.
Comments