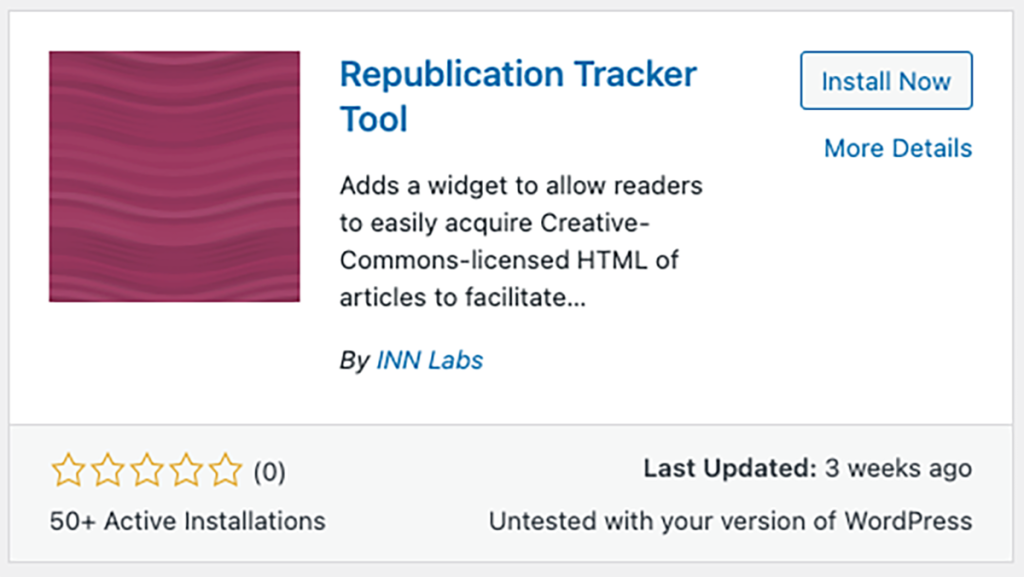 How can newsrooms track where their stories are getting republished?
Republication tracking tools and pixels are easy to install, but far from perfect in delivering results
Many nonprofit newsrooms make their content free to distribute and republish because it's part of their mission to reach as many people as possible. One common challenge we heard from many news organizations was: how can newsrooms easily track where their stories are getting republished?
They wanted to better understand who their publishing partners were, so they could not only report that reach to funders — but also build stronger relationships and opportunities for collaboration with newsrooms and communities who value their work.
Practical tools for republishing
After speaking with several newsrooms and researching tools, the most affordable and easy to install option we found was the Republication Tracker Tool, a WordPress plugin that was originally created by INN Labs and now available through Newspack. We partnered with The Kansas City Beacon to test this option.
This plugin creates a "republish this story button," giving publishers easy access to the Creative Commons-licensed HTML of a story. It also uses a Google Analytics ID to track where stories end up and the number of page views they receive.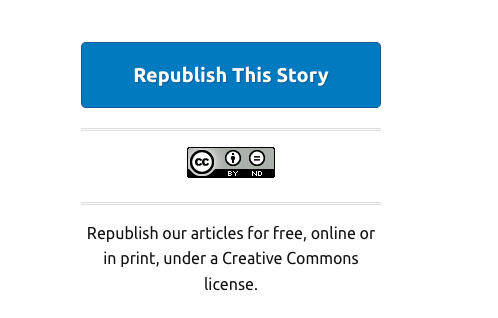 We also learned about alternatives, like a new option through the newswire service Stacker, which USAFacts tested, and tracking pixels.
What is a tracking pixel? And why we wanted to test it
How it works
Basically, a pixel is a very small, invisible image that is embedded on a web page, or in the text of a news article. When another news outlet picks up your story and publishes it on their own site — with the tracking pixel embedded in the code of the story — that pixel sends back information to your news site such as the URL where the story was republished and how many page views it gets.
Using tracking pixels isn't a new idea. But it's becoming more popular among news organizations, especially with the increasing number of nonprofit newsrooms that are making their content free to distribute. From the start, we knew we wanted to test some sort of tracking pixel. We had just seen The New Humanitarian launch a pixel for its new republication system, and later talked to several others who either already had a pixel installed or were working on developing their own.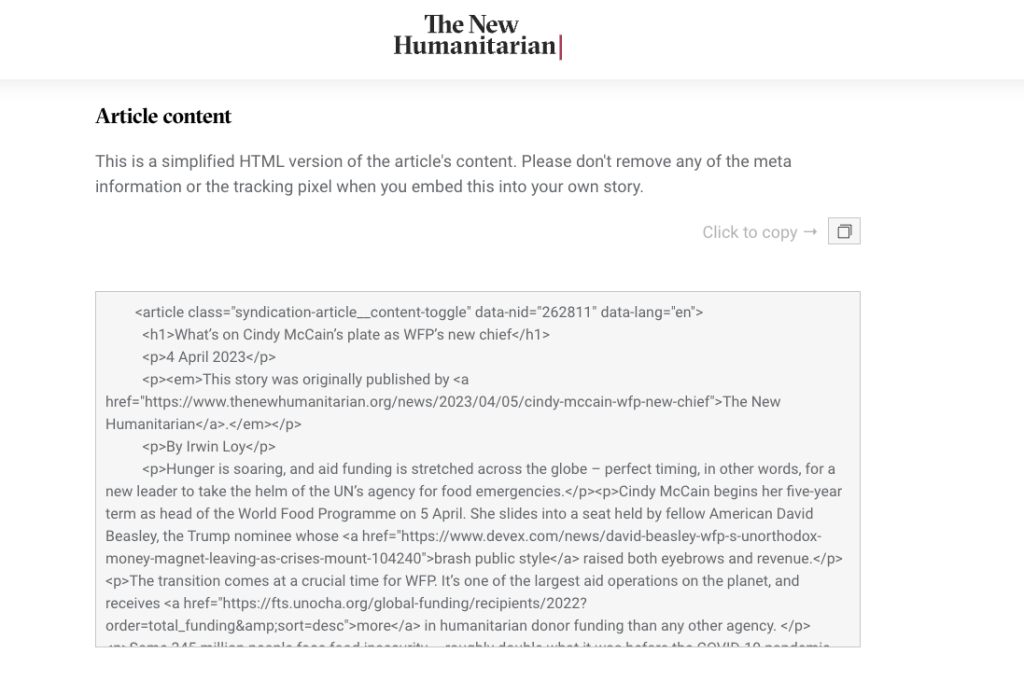 But what if you don't have a developer or engineer on your team?
After looking at examples like ProPublica's PixelPing (one of the earliest versions that focuses mostly on web traffic) and Chalkbeat's process for developing a pixel, we knew we didn't have the engineering power to develop our own pixel. And we also knew that many small news outlets often don't have developers or product engineers on hand either.
We then learned that you could create a tracking pixel using Google Analytics and the unique ID it gives you, but after following the instructions — we saw that this pixel is to measure the traffic on your own site, rather than track where your stories are getting distributed.
So, this is when we dived into the republication tracker tool.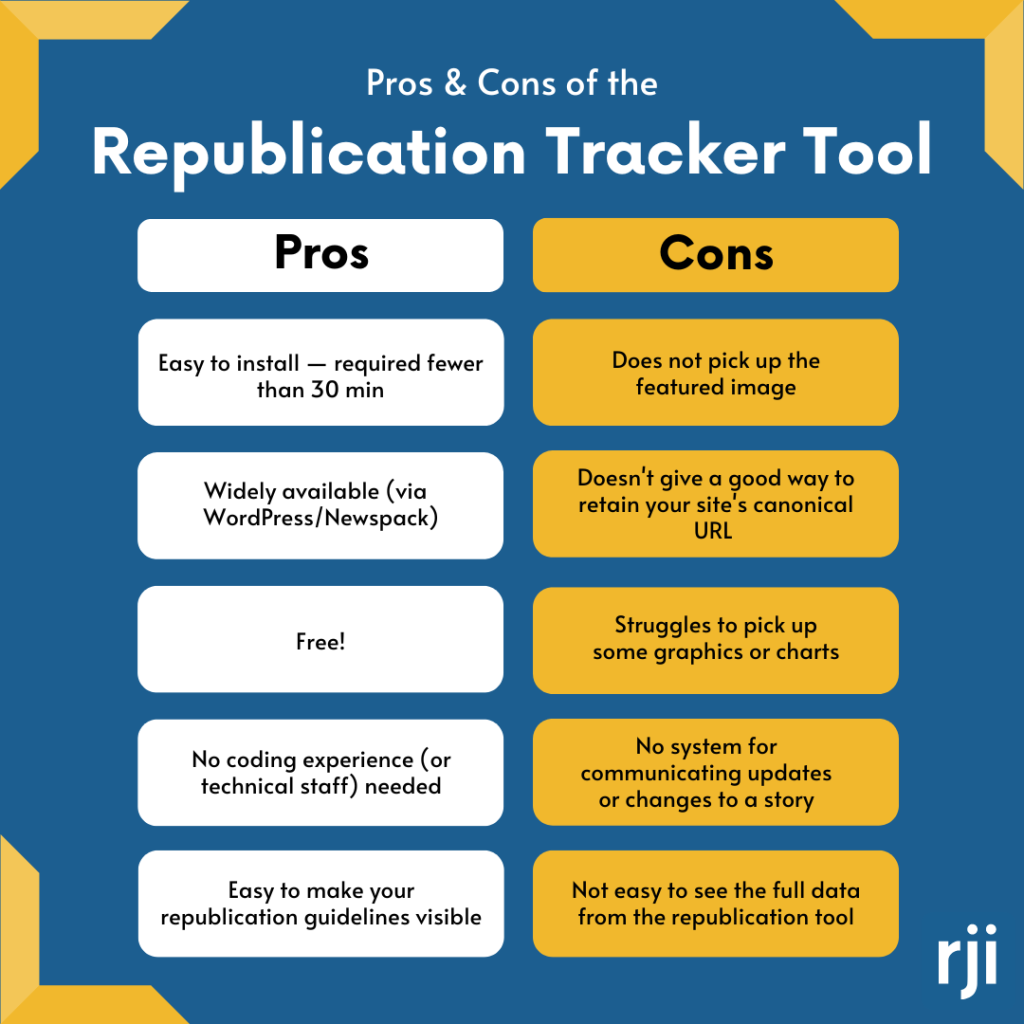 What we learned using the republication tracker tool
The installation of this tool was easy and quick. We worked with The Kansas City Beacon to install the plugin, and it was active on their website within 30 minutes.
This process included pasting The Beacon's republication guidelines right into the tool's settings, so when someone uses the button, they see what rules to follow.
When using this tool, you access these settings by going to Settings in the sidebar menu, then Reading, then scroll down to the bottom of the page for the republication tracker tool settings. This is also where you insert your website's unique Google Analytics ID.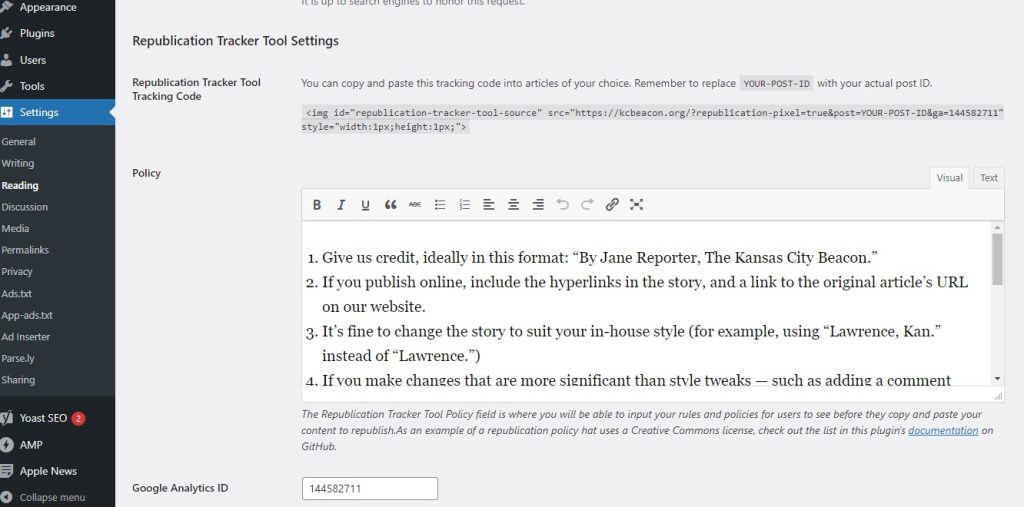 One installation tip: If the button is not showing up on your website immediately, look at the "visibility" settings for the tracker tool, which tells the button when and where to appear.
The tool does need some tweaking to get it to do what you need. When The Beacon tried to use the button, they had to clean up a few things — like the byline not appearing in the correct place in the CMS — but they agreed that it was easier than copying and pasting each individual story when they cross-posted them to another site.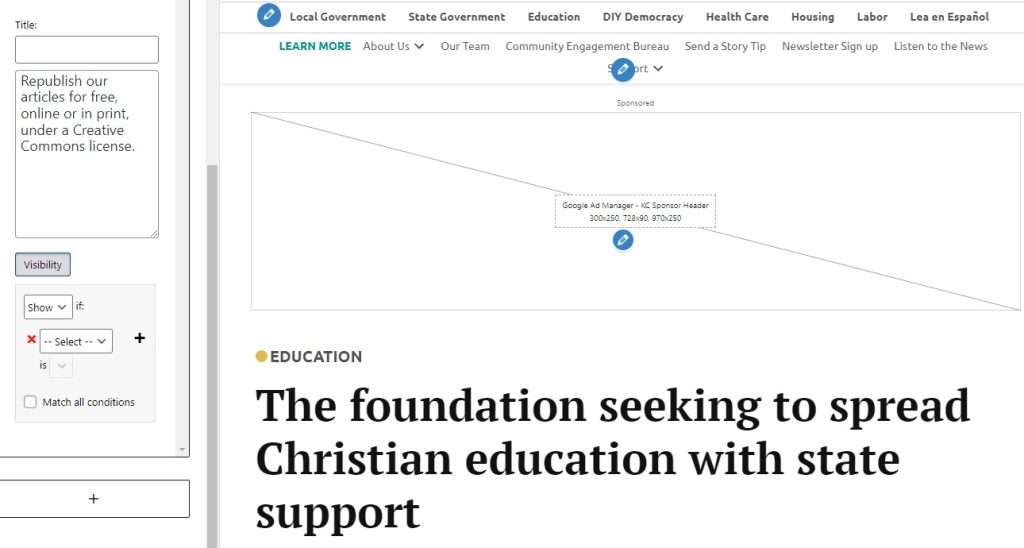 One major flaw in this tool was that the featured photo on a story does not come with the story when the HTML is pasted into the CMS. We confirmed that this is a flaw that others have experienced also: other photos would appear but the featured image was missing.
Ultimately though, our goal was to help the Beacon know who was republishing their stories. According to the Newspack demo of the tool, it should send data to Google Analytics, as well as show a list of the websites that republished each story at the bottom of the article in WordPress.
Unfortunately The Beacon — and Wisconsin Watch, a nonprofit news organization that has been using the tool longer — did not see a list of republished URLs as promised. They only saw a total number of page views.
Newspack's support team confirmed that this is a bug in the tool. They are also still working on making it compatible with GA4, so news sites that have already switched to the new system may not be able to see the analytics from this republication tool. (We will update this story when we hear that these issues have been addressed.)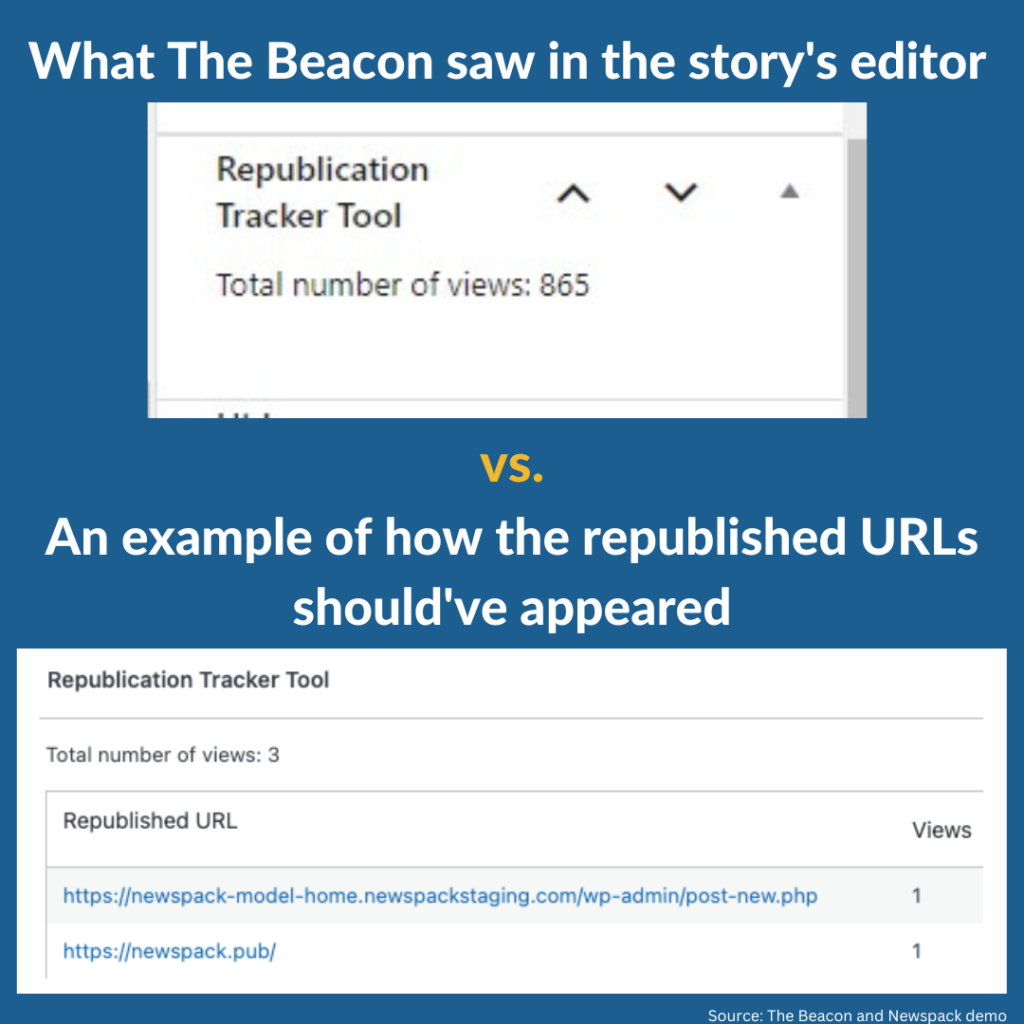 Overall, this tool was helpful to get a site started with a republication strategy, but it is difficult to recommend without having the data the Beacon needed like the URLs where the republished stories are appearing. The Beacon also wished this tool provided a better way to communicate updates/changes to stories, as well as an option to give publishing partners the code needed to include their canonical URLs. For the latter need, they liked the republishing page at The Texas Tribune.
A note about canonical URLs
A major priority for The Beacon was making sure that their original stories do not fall in Google search rankings when other site's republish the same story. One way to do this is to make sure the republished story includes their canonical URL — a piece of code that tells Google, "hey, this story first appeared on The Beacon's site."
While we did not find a technical solution to ensure publishers include The Beacon's canonical URL when republishing — and confirmed that others with internally-created republication systems often did not have a great fix, either — we did find some helpful tips.
If your site uses the Yoast plugin for SEO (like Newspack offers), this page explains how to make sure your canonical URLs are showing up on your own site. We checked that it was working right by right clicking on any Beacon story to view the page source, then searching for "canonical" in the code.

The Beacon also added a note about canonical URLs in its republishing guidelines, including the above screenshot:
"Include our canonical URL from wichitabeacon.org in the <head> of your page. This helps preserve our search rankings. You can check the html of the republished version of our story to make sure the canonical URL is pointing to our original story. Scroll down to the end of this post for an example."
Another option: Using a news distributor
Beyond the Republication Tracker Tool and creating your own tracking pixel, we looked at other options like using a media tracking service to create more in-depth reports of where your republished content is appearing. While these options may be worth it to catch content that tracking pixels miss, they are often cost-prohibitive for news organizations with limited budgets.
Stacker — which delivers data journalism, evergreen features, and other forms of service journalism to more than 2,000 news outlets across the country — is offering its service free for a "handful of qualifying nonprofit newsrooms" each month. Stacker typically charges contributors about $1,000 per story as a "flat utility fee" to use their infrastructure. Despite the cost, this service seemed appealing to some because each organization that sends a story through Stacker has access to all the data that Stacker collects about the story's pickups and reach, which is all curated in an easy-to-read dashboard.
Stacker will also offer to help a news organization choose the best story that will perform well within its network of publications and their audiences, as well as package the text and images to be shared easily.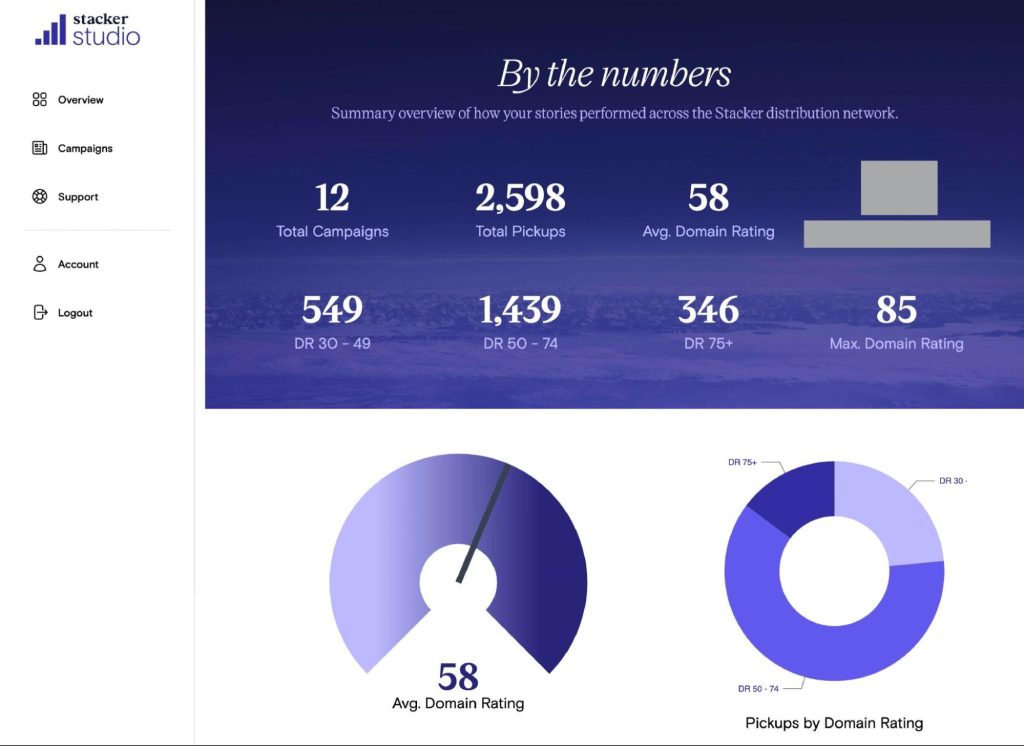 USAFacts recently sent a story through Stacker, and it was picked up by nearly 150 publications within a week, according to Ken Romano, vice president of distribution at Stacker. When we talked to USAFacts about their experience, they said they found these analytics to be reliable and easy to use.
USAFacts' overall republication tip ties in with advice we heard frequently: Keep in mind your goals for syndication — especially around SEO and brand awareness — when developing a republication strategy.
Sign up for the Innovation in Focus Newsletter to get our articles, tips, guides and more in your inbox each month!
Comments