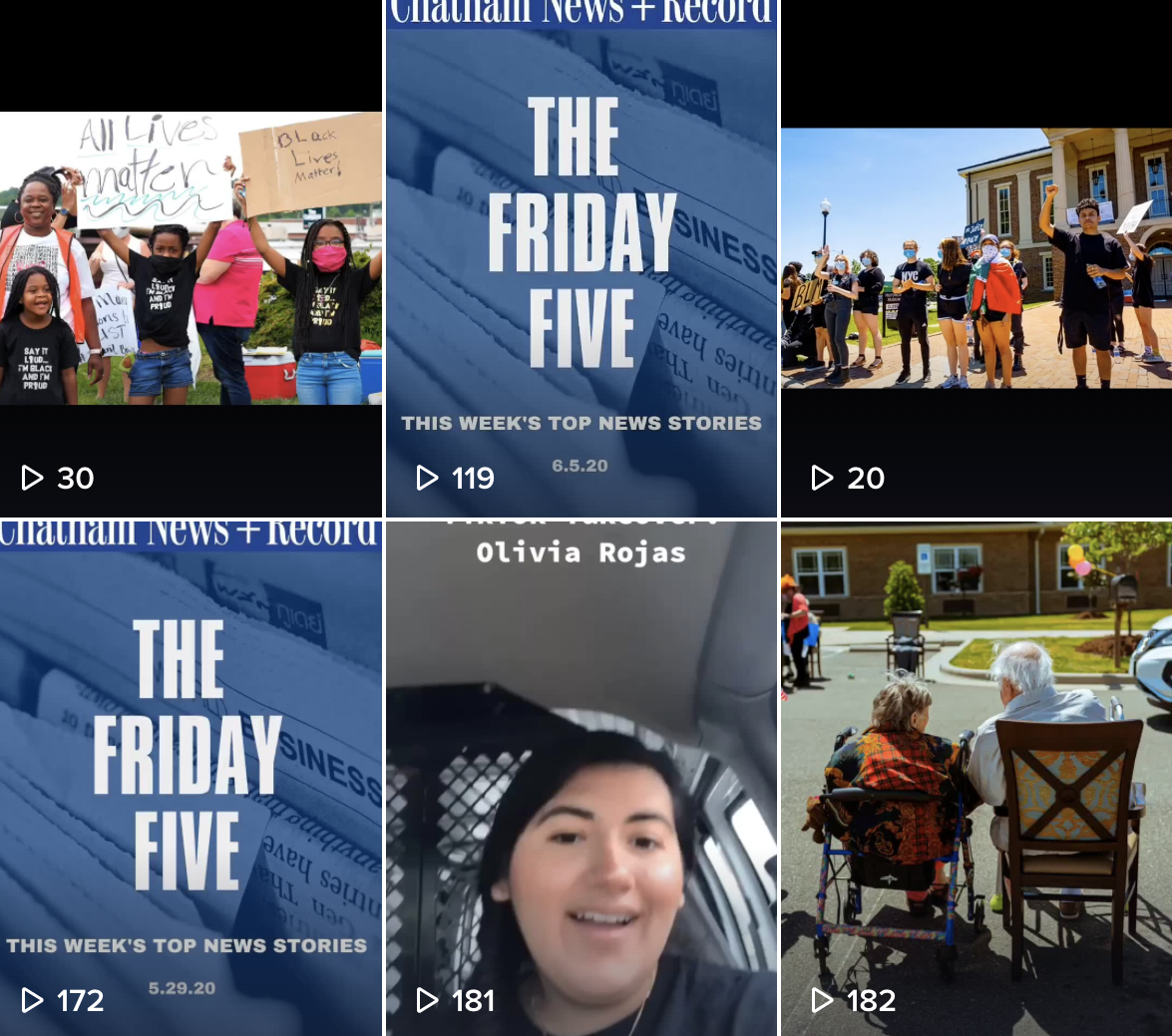 5 ways that local newsrooms can utilize TikTok
Caroline Watkins is the RJI Student Innovation Fellow at the Chatham News + Record in North Carolina. This summer our student fellows will be sharing dispatches from their fellowships in newsrooms across the country as a part of Innovation in Focus.
♬ Never Ending Story – Rerecorded – Limahl
TikTok was launched in September 2016. Now, it has around 800 million active users worldwide. In a space that consists primarily of dance and comedy videos, is there a space for news? The Chatham News + Record thought they'd give it a try and see if they could discover the answer for themselves.
This month they launched the Chatham News + Record TikTok account after the publisher expressed interest in getting on the platform. Together, we determined that building a presence on TikTok might help the Record reach a younger demographic, expand their digital media presence and allow them to tell local stories in new and creative ways while engaging with the community.
Of course some of the larger outlets with more resources have already established themselves in the TikTok realm. Perhaps the most notable example is The Washington Post, which currently has 537.8K TikTok followers and 23.3 million likes. Their account is run by the Post's Dave Jorgenson and often features videos of Jorgenson himself experimenting with some of TikTok's latest trends or giving viewers a behind-the-scenes perspective of what it's like to work at the Post.
If you're in a local newsroom and don't quite know where to begin, here are five tips and tricks from what we've learned so far by diving into TikTok:
1. Take time for planning and strategy first
People come to TikTok to have fun and see stories told within as little as 15 seconds. How will you effectively share content that will stand out and make viewers want to come back for more? How will you measure success? What is your ultimate goal with your content on TikTok? These are questions to ask yourself before you post your first video.
Dave Jorgenson described The Washington Post's TikTok approach in a Nieman Lab article. He told Nieman Lab, "We want to expand on what we do best and include the news and have, not breaking news, but things people are talking about, and ease our way into that."
2. Combine hard and soft news
TikTok is full of light-hearted content, from dance videos to lip-syncing contests. Don't be afraid to combine your news content with videos of your journalists having a little fun.
In fact, the videos that received the most views on the Chatham Record's TikTok account were of an intern giving a behind-the-scenes look at the paper's delivery route and a photo slideshow featuring trending music of people coming together during COVID-19.
TikTok allows news outlets to get creative and showcase the personalities of their staff and community; it gives readers the chance to get to know their local journalists on a more personal level.
News organizations on TikTok have published pieces such as:
3. Cross-promote and call to action
TikTok allows you to easily share content from TikTok to your other social media platforms. Whether you click the "share button" after you've created a video or the "copy link" option, your readers can view your published TikTok content without having a TikTok account themselves. You can share your videos on Instagram stories, include a link to your recent TikTok in your newsletter, and include a "link in bio" on TikTok to your website or a recent story. You can also create previews for those stories and include a call to action at the end of your TikTok post. It's important to keep in mind that TikTok videos can only be 15 seconds long, or 60 seconds for a loop of videos, so make sure you allow enough time in your video for your followers to read all of the text if you decide to go that route.
4. Create a series
TikTok is a great platform for creating a series on a particular topic or theme, especially if you can connect it to trending topics that are already picking up speed on TikTok with other creators. Even if it's completely unique content, there are certain themes we've seen do well for news organizations on TikTok:
Top stories of the week/day
Q&A's (with your own staff or local personalities)
Fun videos featuring local or national celebrities
Photos of the week/day
Photos that didn't make the cut in the published paper
Mini interviews and features of interesting people
Current events
Light hearted takes on shared challenges
5. Post & engage consistently
Like most social media platforms, a key to success is engaging consistently on the platform. You will get out of it what you put into it, so set a plan for your newsroom to post and engage on TikTok regularly. Remember to spend time liking and commenting on content posted by other accounts (especially in your community!) and engaging with your followers in your comments section. At the end of the day, the more active you are on TikTok, the more TikTok's algorithm will play to your favor.
Comments